Housebuilder says it will look at national rollout to meet new regulations from 2025
Redrow has said it will begin trialling infrared heating at one of its sites later this spring which if successful it will roll out nationally to hit the government mandate to use alternatives to fossil fuels in new builds from the middle of the decade.
Upcoming regulations will ban gas boilers in new build homes under the Future Homes Standard from 2025.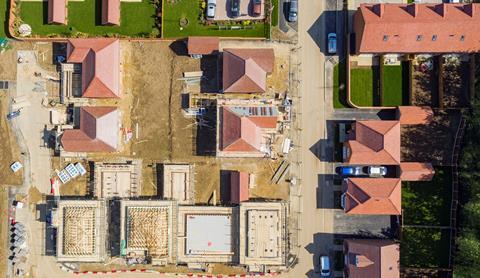 Redrow chief executive Matthew Pratt said it would begin the infrared heating trial in the next three months at a site near Huddersfield in West Yorkshire.
The year-long initiative will see a family move into a home at Scissett with Redrow monitoring how well the infrared system heats their home.
> Explainer: What the draft Future Homes Standard means for new developments
"If it's a success, we'll roll it out from there," Pratt said. "The biggest change for us is [building] homes without fossil fuels so we're looking at ways to address this."
The firm, which unveiled an improved set of half-year results this morning, said the covid-19 pandemic has seen a change for good in the way people use their homes with the housebuilder now adding office space into its housing mainstay, the Heritage collection.
Pratt added: "The way people work has completely changed, there is less commuting and more working from home. That's here to stay."
He said the firm has applied to be part of the government's lateral flow test initiative to test its 6,500-strong workforce for covid-19.
The government is hoping the move will detect coronavirus in those people who cannot work from home and who are not showing symptoms.
Pratt said he would welcome industries like construction, which has been told to carry on working during the latest lockdown, being singled out for priority vaccinations after saying its sites had been hit by subcontractors having to self-isolate.
Meanwhile, the firm said it was still speaking to main contractors about cladding remediation work at blocks in Cardiff and east London.
The scheme in the Welsh capital called Celestia was built by Laing O'Rourke and the Ropeworks scheme in Barking was built by Ardmore. Both developments were completed more than a decade ago and Pratt said they were among around half a dozen blocks the firm was behind that needed their cladding replacing.
He added: "It's not just the cladding, it's the workmanship as well. We're engaging with the contractors about what they're responsible for."
And he said he wouldn't be against chancellor Rishi Sunak extending the stamp duty holiday beyond its current 31 March deadline next month. The initiative, which has cut the rate of stamp duty to zero per cent for all properties £500,000 or under, has helped fuel a boom in sales but Pratt said the government needed to look at long-term reforms on the tax.
He said: "The holiday has pumped up sales very quickly, it's rushing to an end date and then it stops. If it [stamp duty] was lowered to a more reasonable level, it creates more transactions and more tax for the Treasury."
Redrow said pre-tax profit in the six months to 27 December was up 11% to £174m with revenue jumping one fifth to just over £1bn. Net cash during the period was up to £238m from £14m last time and up from a net debt of £126m at the end of its June 2020 financial year.