But rate of new building work shows sharp fall, Deloitte crane survey says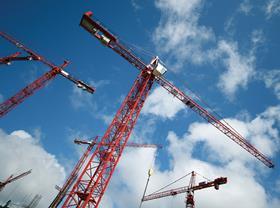 Refurbishment work rather than new build is behind an eight year high in central London office construction.
The latest Deloitte crane survey – which covers seven major office markets in the capital – said that the amount of office construction in central London has hit 14.8 million sq ft – the highest amount since 2008.
The survey, which runs for the six months to the end of September, said 40 new starts had been made during the period.
But refurbishment work accounted for 28 of these projects – almost three-quarters – with the survey reporting the amount of new construction activity is down 42% on the previous figure.
Chris Lewis, head of occupier advisory at Deloitte Real Estate, said: "Refurbishments… highlight the opportunity that developers can deliver into a market that still has low levels of available office space."
The greatest number of new starts was in the City, where construction began on 14 new schemes, totalling 1.1 million sq ft, and increased the City's development pipeline to 8.8 million sq ft.
But the West End and Midtown markets fared worse with a decrease in construction activity of 25% and 20% respectively over the past six months. This is largely as a result of a number of projects completing and smaller schemes starting, the survey added.
The survey has also tracked construction activity in three additional locations, Vauxhall-Nine Elms-Battersea, White City and Stratford, for the first time and these three areas boast 11 office schemes under construction and will deliver 2.9 million sq ft to the market, 65% of which is already pre-let.
Deloitte said this year and last had been the most active for new developments in the past 20 years with 15 million sq ft being built across 148 schemes. Deloitte said around half of this was due to be built out by the middle of next year.
The firm's head of Insight, Will Matthews, said some developers were delaying work on future speculative schemes because of worries over the economy.
He added: "Our pipeline is showing the bulk of future delivery is now likely in 2019 and 2020. Nevertheless, demolition levels have increased by 12% over the six months, indicating that other developers are continuing to press ahead."
Other central London areas covered by the survey are King's Cross, Docklands, Paddington and Southbank.