Consultant's report finds lift in regions despite output fall in London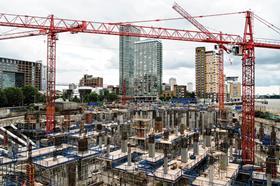 Bumper regional markets have held up construction sector market, despite a fall in London and unease about Brexit, according to the latest report from Turner & Townsend.
Strong construction markets in the North West, West Midlands and South West saw output increase across the country during the period immediately before the EU Referendum through to the end of 2017.
According to the firm's UK Market Intelligence report, construction output increased by 30.7% in the North West, 27.8% in the West Midlands and 27.2% in the South West.
By contrast, construction output in London fell by 5.7% during the same 18-month window.
The trio of regions were identified by as "hot markets", where high demand and insufficient contractor supply has pushed up tender prices.
But the report also forecast that tender prices would only increase modestly this year even in these hot markets with 2.3% growth forecast in the West Midlands, 2.2% in the North West and 2.1% in the South West.
London was forecast to have tender price inflation of just 1.7% this year.
Paul Connolly, Turner & Townsend director, said: "As market uncertainty continues to weigh heavily on the construction industry, output data in several regions gives early signs of a correlation between regional autonomy and resilience to the confidence-sapping impact of an uncertain political future.
"The data also reveals the nuances of the London market. Despite a slowdown in the office sector, the residential and infrastructure markets in the capital remain very buoyant."
The report also found there had been a nation-wide increase in single-stage tendering, with the company saying this was due to "increased contractor appetite to take on additional commercial and schedule risk".
But Connolly warned: "Notwithstanding, this increased appetite, clients need to remain cautious on what risk is actually being taken on and managed by contractors. The failure of Carillion and the rising number of insolvencies suggests risk transfer in the current environment can be illusory."
The consultant's data showed in the first quarter of 2016, 27.4% of projects were offered on a single-stage basis, compared to 36.5% on a two-stage basis.
The split has now changed, with single-stage tendering having increased by over 10% at the end of 2017 while two-stage fell by over 5%.