Investors and property agents tell BCO conference that markets outside London are turning around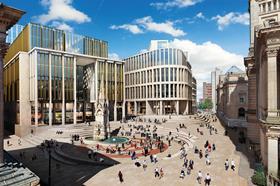 Construction and property firms have been urged to re-enter the regional office market amid signs of the market's resurgence, at the annual British Council for Offices (BCO) conference, held in Birmingham last week.
The new-build office market outside of London has collapsed from 1.6 million sq ft of schemes developed a year on average before the financial crisis, to 500,000 sq ft a year afterwards, according to property agent Savills.
But investors and property agents told the conference the regional office market is starting to turnaround.
Mat Oakley, director of commercial research at Savills, said the regions were starting to benefit from being "competitively cheap" compared to the booming London market and from a "severe under-supply of Grade A office space".
Rupert Young, development director at Nurton Developments, said in his firm's assessment "regional cities in general have less than two years of Grade A office supply" and this needs to be replenished, and while speculative office development is still uncommon, "it is no longer a dirty phrase" in the regions.
Young said there was a "wall of cash" from overseas planning to invest in the UK property market and the regions could offer "a competitive edge".
Young added the regional office market would be "boosted" by commercial market trends including expanding new banking clients such as Tesco, Virgin and Sainsbury's, companies relocating operations from London, as Deutsche Bank has done in Birmingham, and re-shoring of operations, as Santander has done by moving operations from India to Liverpool.
Phil Irons, partner at investor Benson Elliot Capital Management, said: "If you're brave enough the real money is in new-build office developments [in the regions]."
Sir Albert Bore, leader of Birmingham City Council, told the conference: "If we're not careful a shortage of office space will throttle growth [in Birmingham]."
However Oakley warned the regional city markets are "small and illiquid" and "there is a fine line between over and under supply", while further public sector cuts could negatively impact on the office markets.
Enabling work for Birmingham and Argent's £450m Paradise Circus mixed-use scheme (pictured) in the city centre - which will deliver one million sq ft of office space - begins this autumn.