Listed contractor changed its name last year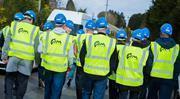 The renamed North Midland Construction saw first half profit jump a third on the back of a double-digit rise in revenue.
North Midland changed its name to NMCN last year and said in the six months to June pre-tax profit was up 38% to £3.5m with turnover rising 14% to £184m.
Chief executive John Homer said: "For the remainder of 2019 and into 2020 the outlook is looking strong."
The firm said its telecoms arm returned to the black with a £500,000 operating profit after the division was caught up in last year's collapse of Carillion.
It previously said it was owed money by Carillion for its work with Carillion Telent, the joint venture company carrying out upgrades to Britain's internet infrastructure for Openreach.
NMCN's biggest sector is its water business which saw revenue rise 17.5% to £132m.
The firm made a pre-tax profit of £6m last year on turnover of £340m.