Exclusive: Departures mean half of Davis Langdon's former equity partners have gone since Aecom takeover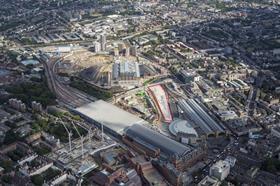 Aecom has lost a further two high profile directors from its London office, Building can reveal.
Alex Davey, head of real estate in Europe, and Paul Zuccherelli, head of retail at the firm's UK-based subsidiary Davis Langdon, have both tendered their resignations, Aecom confirmed.
Their departures mean half of Davis Langdon's former equity partners in Europe and the Middle East - 37 out of 74, according to Building's analysis - have now left the firm since it voted through its takeover by Aecom in 2010.
The firm's London-based commercial team has been hit particularly hard by departures. Davey's departure follows news a fortnight ago that Davis Langdon's head of tall buildings, Steve Watts, and head of offices, Iain Parker, have also resigned.
Davey, Watts and Parker had been running the London-based commercial team for four months, after former head of commercial Paul Allen resigned in November. Davey has worked on a number of major projects in the UK – including Argent's £2bn, 67-acre mixed-use King's Cross Central scheme (pictured) – and emerging markets including Latin America and Eastern Europe.
Aecom confirmed that Peter Flint, Aecom's buildings and places lead in Europe, the Middle East and Africa and a former Davis Langdon partner, has taken on the role of leading the London-based commercial division, to be supported by director Nick Clare.
Aecom also disclosed it has reshuffled its senior team to boost its commercial division. Building engineering chief executive David Glover will take on the additional role of heading up offices; director Nick Clare will head up retail; and director Andrew Jones will head up cities. David Thornley, head of corporate solutions, and Ben de Waal, head of residential, have both been given extended roles.
Flint said: "It's always sad when you lose good people. But we've got a lot of strength in depth and we're managing the transition with clients."