Peter Aldous' private member's bill had been due to be heard today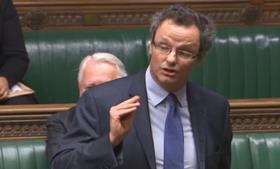 The second reading of a private member's bill looking to overhaul retentions practices in the construction industry has been pushed back to March.
Tory MP Peter Aldous' (pictured), Construction (Retention Deposit Schemes) Bill 2017-19, has been repeatedly delayed since its first reading last January.
The bill was due to have its second reading in the House of Commons today (25 January), but MPs are now not scheduled to sit, meaning it has now been pushed back to 8 March.
The second reading of the bill has already been delayed on four occasions, having been due to be heard in April, June, October and November of last year.
Earlier this week Building revealed that the business department was declining to say when the government will formally respond to a public consultation on retentions which closed over a year ago.
A spokesperson for the Department for Business, Energy and Industrial Strategy (BEIS), said the government's response to the cash retention consultation, which launched in October 2017 and closed on 19 January last year, would be issued in "due course".
BEIS declined to say whether Brexit was to blame for the delay behind the hold-up.
Despite the delay, parliamentary support for Aldous' bill is on the rise, with the chairs of 15 select committees giving it their backing.
The total number of MPs supporting the bill to reform retention practices has now reached more than 270.
Committee chairs backing Peter Adlous' bill
| Name | Party | Committee |
| --- | --- | --- |
| Nicky Morgan | Conservative | Treasury |
| Rachel Reeves | Labour | Business, Energy and Industrial Strategy |
| Clive Betts | Labour | Housing, Communities and Local Government |
| Robert Halfon | Conservative | Education |
| Frank Field | Labour | Work and Pensions |
| Yvette Cooper | Labour | Home Affairs |
| Meg Hillier | Labour | Public Accounts |
| Angus MacNeil | SNP | International Trade |
| Norman Lamb | Liberal democrat | Science and Technology |
| Stephen Twigg | Labour | International Development |
| David Davies | Conservative | Welsh Affairs |
| Pete Wishart | SNP | Scottish Affairs |
| Kate Green | Labour | Standards |
| Harriet Harman | Labour | Human Rights |
| Patrick McLoughlin | Conservative | European Statutory Instruments |