Each tower could cost £20m to upgrade to required fire safety standards
The cost of retrofitting housing blocks in the wake of last month's Grenfell Tower fire could run into billions of pounds, Building has learned.
The government is currently testing 600 blocks seen as likely to be vulnerable to the same problems that hit the west London block more three weeks ago – and at the time of writing all had failed the fire safety tests.
Mark Stevens, a director at cost consultant Gleeds, has been modelling the cost of these works on a typical 23-storey social housing tower block and says that once temporary works, cladding removal, contractors' margins and prelims are taken into account, a single tower of that scale could cost in the region of £20m to retrofit.
If each tower needed £20m spending on it, then the cost of work on all 600 would leave cash-strapped local authorities with a bill of £12bn.
While the Department for Communities and Local Government has provided no information on the height and size of towers where cladding has failed, Stevens says a conservative estimate of the work required would be at least £1bn.
"It is fair to say that the work could cost more than £1bn if the full scope is needed in each building."
Stevens said costs could escalate further if contractors were asked to complete works particularly quickly, with elements such as cladding already having large lead-in times.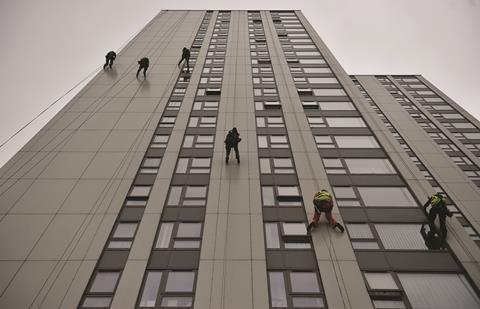 Derek Joseph, chair of housing association A2Dominion, said: "You have to wonder what a big programme of this would do to construction costs – to labour and material costs."
And the bill could rise even more if the retrofitting of sprinkler systems is made mandatory. According to the British Automatic Fire Sprinkler Association, there would be nearly 4,000 buildings to upgrade, at a cost of up to £2,500 per flat. A spokesperson for the group said its members had already seen a "big" increase in demand.
News of the likely costs of the work comes as councils and housing associations have put on hold planned work.
A spokesperson for Westminster council confirmed it had delayed the recladding of Tollgate House, part of a £50m regeneration scheme, while it "talked to communities about the way forward".
Debbie Larner, head of practice at the Chartered Institute of Housing, said: "People will have to pause – to relook at their plans and at the materials they're using."
A2 Dominion's Joseph said: "I understand lots of landlords have already put on hold all their refurbishment projects. Everyone's doing that."
Prime minister Theresa May has said her government will "support" local authorities with any associated costs but the government has not allocated specific funds to the work and not yet said what exactly it will and will not pay for.
Source
For more on Gleeds' modelling and the impact on the social housing sector click here