Firms paid over £360m in the three months after government ordered review of scheme
Construction firms earned around £4m a day from work on HS2 during the three months after the scheme was put under review last summer.
The National Audit Office revealed last month that £7.2bn was spent on HS2 up to April 2019. But Building can reveal that at least £363m was paid to construction firms in August, September and October following the government's decision to ask Douglas Oakervee to lead an independent review of the project.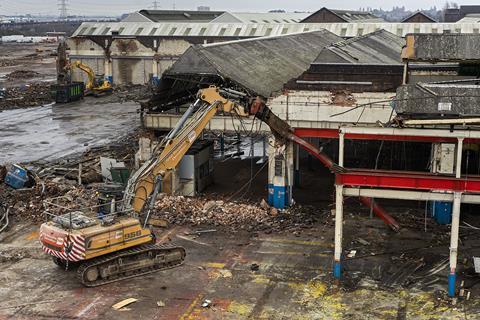 Department for Transport data documenting all payments of more than £25,000 from August to the end of October, the most recent months for which the figures are available, shows how much contractors and consultants stand to lose.
A joint venture carrying out all HS2 demolition and enabling works inside the M25 earned Costain/Skanska £65m, the most during the three-month period.
The next biggest earner was a team made up of Laing O'Rourke and Murphy. Their joint venture was responsible for similar work between Leamington Spa in Warwickshire and Birmingham, for which it was paid almost £50m.
The third demolition and enabling team, comprising Morgan Sindall, Bam Nuttall and Ferrovial and responsible for work between the M25 and Leamington Spa, earned just under £30m.
Consultant Arup, which holds a number of contracts on the project including responsibility for the design of Interchange station in Birmingham, was paid nearly £43m.
The next biggest earners were the four phase-one main civils contractor teams, even though the firms are yet to be given the go-ahead by the government to start on site.
A Bouygues, VolkerFitzpatrick and Sir Robert McAlpine team was paid nearly £30m, while an Eiffage/Kier team, which had also included Carillion before its collapse, was paid £25m.
A Balfour Beatty/Vinci JV earned just under £27m over the three months, while a team featuring Skanska, Costain and Austrian tunnelling specialist Strabag was paid £21m.
The bosses of Mace, Kier and Sir Robert McAlpine were among industry chiefs to write to the prime minister calling for HS2 to be built in its entirety. They said it would create 30,000 jobs, improve modern methods of construction and boost the UK's industrial capacity.
The bosses described the scheme as the only shovel-ready project of this scale in the UK. The letter added: "It would take many years to get an equivalent pipeline of work in place, by which time the damage would already be done to the supply chain."
Other firms who signed the letter included Balfour Beatty, Morgan Sindall, Skanska and Costain.
How much were firms paid for working on HS2?
| | | | | |
| --- | --- | --- | --- | --- |
| | August 2019 | September 2019 | October 2019 | Total |
| Aecom | £5,834,766.04 | £4,815,052.07 | £4,434,646.84 | £15,084,464.95 |
| Align JV (Bouygues, VolkerFitzpatrick, Sir Robert McAlpine) | £6,192,191.48 | £16,670,883.68 | £6,970,257.60 | £29,833,332.76 |
| Atkins | £172,142.79 | £0.00 | £0.00 | £172,142.79 |
| Balfour Beatty | £1,617,785.03 | £2,110,211.98 | £1,965,725.73 | £5,693,722.74 |
| Balfour Beatty/Vinci | £5,013,719.04 | £6,561,570.71 | £15,171,635.36 | £26,746,925.11 |
| Bam Nuttall | £0.00 | £192,698.22 | £409,262.87 | £601,961.09 |
| Bechtel | £1,321,010.21 | £1,187,279.08 | £1,294,399.12 | £3,802,688.41 |
| CH2M | £38,337.51 | £141,420.52 | £0.00 | £179,758.03 |
| Costain Skanska | £20,245,240.27 | £20,221,019.90 | £24,932,410.00 | £65,398,670.17 |
| Eiffage/Kier | £6,365,484.27 | £9,525,427.11 | £9,568,383.78 | £25,459,295.16 |
| Fusion JV (Morgan Sindall, Bam Nuttall, Ferrovial) | £7,825,044.07 | £9,870,577.82 | £12,145,108.60 | £29,840,730.49 |
| Gardiner & Theobald | £63,075.00 | £0.00 | £78,990.00 | £142,065.00 |
| Lendlease | £1,056,314.93 | £0.00 | £1,095,404.60 | £2,151,719.53 |
| Laing O'Rourke/Murphy | £15,036,968.94 | £15,292,075.94 | £19,640,767.07 | £49,969,811.95 |
| Mace/Dragados | £1,064,697.84 | £1,587,745.67 | £1,427,223.85 | £4,079,667.36 |
| Mott MacDonald | £277,425.36 | £0.00 | £345,941.49 | £623,366.85 |
| Mott MacDonald/WSP JV | £4,996,592.76 | £5,785,468.31 | £4,299,407.45 | £15,081,468.52 |
| Mouchel | £210,538.34 | £678,192.56 | £418,116.42 | £1,306,847.32 |
| Ove Arup | £12,181,093.31 | £15,637,870.90 | £14,825,738.11 | £42,644,702.32 |
| Perfect Circle | £0.00 | £172,060.60 | £337,131.33 | £509,191.93 |
| Skanska Costain Strabag | £7,919,837.60 | £1,173,275.19 | £11,947,741.24 | £21,040,854.03 |
| Turner & Townsend | £1,818,743.40 | £951,871.80 | £2,034,943.73 | £4,805,558.93 |
| WSP | £7,878,683.88 | £4,268,578.72 | £6,131,563.08 | £18,278,825.68 |
| Total | £107,173,370.07 | £116,886,989.78 | £139,518,537.27 | £363,578,897.12 |
Source: Department for Transport
This story was originally published on 29 January and updated on 11 February