Costain/Skanska joint venture earned more than any other major contractors on railway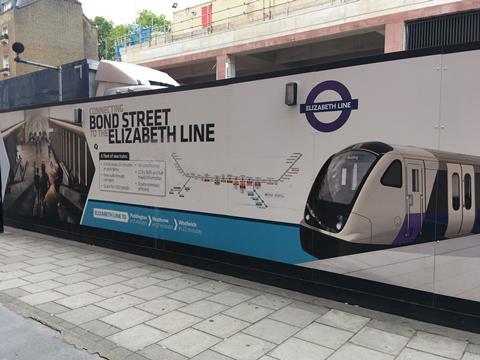 The contractors building Crossrail most problematic station were paid more than any others last year.
The Costain/Skanska joint venture responsible for delivering Bond Street station earned just over £255m. The pair are also building Crossrail's Paddington station.
Building can reveal the pair were paid almost 30% of Crossrail's £891m construction spend in 2019.
Crossrail says it has "increasing confidence" Bond Street will be ready to open at the same as the rest of the central section after chief executive Mark Wild had initially said last year it would only be finished once the rest of the line was up and running.
Crossrail has since announced it plans to start running trains on the central section from Abbey Wood to Paddington in summer 2021 – two and a half years late.
Analysis of Crossrail's 2019 expenditure reveals the £18.4bn project handed construction firms the equivalent of £2.4m a day. By comparison, HS2 spent around £4m a day on construction in just 10 months.
The second biggest earner on Crossrail last year was another Costain joint venture that was paid £185m.
The Costain, Alstom and TSO team is responsible for the fit-out and commissioning of the Crossrail tunnels between the Royal Oak, Pudding Mill Lane and Plumstead portals.
Laing O'Rourke, which is building Tottenham Court Road, Liverpool Street and Custom House stations, rounded out the top – raking in £107m.
The Balfour Beatty, Morgan Sindall and Vinci joint venture responsible for Whitechapel station, which has also been causing project bosses headaches, was paid £91.5m.
Siemens, one of the firms working on the railway's complex signalling and software systems, was paid £92m.
Crossrail spent the most money in the four weeks between 1 April and 27 April – paying construction companies £87m across the period.
Crossrail's top earners 2019
| Contractor | 2019 earnings |
| --- | --- |
| Costain/Skanska | £255,046,252.57 |
| Alstom/TSO/Costain | £185,082,686.51 |
| Laing O'Rourke | £107,062,987.10 |
| Siemens | £92,133,564.49 |
| Balfour Beatty/Morgan Sindall/Vinci JV | £91,502,458.16 |
| Balfour Beatty | £41,134,590.38 |
| Bam/Ferrovial/Kier | £39,655,794.85 |
| Bechtel | £29,999,401.05 |
| Dornan Engineering | £9,251,581.73 |
| Alstom/Costain JV | £7,626,972.10 |