Railway shelled out more than £4m a day underlining scheme's importance to industry
HS2 spent more than £4m a day on construction in the first three months of this year, underlining its importance to the entire industry.
But this sort of spending is set to be dwarfed in the coming months as work to get going on the big civils schemes finally gets underway.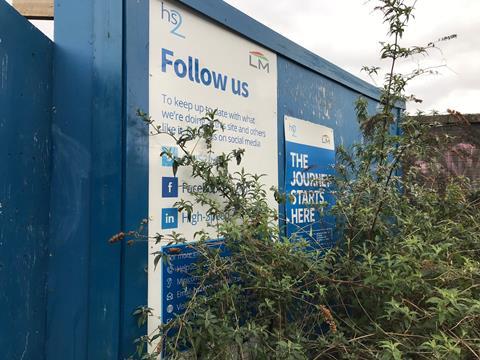 In the past couple of weeks, the railway has made announcements on four jobs worth a total of more than £1.5bn, including the shortlist for the £570m Curzon Street station job in Birmingham, and firing the starting gun on the search for a contractor to carry out a £500m M&E contract.
And last week it advertised for 500 new recruits, hammering home how much work the £100bn scheme will create for an industry facing up to the prospect of falling incomes because of the covid-19 crisis.
According to the latest data from the Department for Transport detailing spending of more than £25,000 on the scheme, HS2 spent at least £388m in the first three months of this year.
> Revealed: How much construction stands to gain now HS2 has been approved
A Laing O'Rourke Murphy joint venture responsible for enabling works from Long Itchington Wood near Kenilworth, Warwickshire, into Curzon Street and out again northwards to Lichfield, where phase 1 will join the existing West Coast Main Line, was the highest paid of any suppliers, earning £65.7m.
The Costain Skanska team was the second biggest earner in the first quarter with the firm, which is carrying out enabling works inside the M25, picking up £56m, while the Balfour Beatty/Vinci JV building the West Midlands section of HS2's phase one route earned £48m.
With Boris Johnson issuing HS2 a notice to proceed on the phase one main civils contracts in April, the four teams on those contracts are likely to record an increased income in the next tranche of data.
The latest updates also confirmed the expenditure for December – meaning the construction spend for the whole of 2019 can now be revealed.
HS2 spent at least £1.46bn in 2019 – with the Costain/Skanska team earning £271m, the most of any firm.
The other big earner was Arup, working on a whole range of contracts for the project, which was paid £190m.
Quarter one construction costs
| | January | February | March | TOTAL |
| --- | --- | --- | --- | --- |
| Laing O'Rourke/Murphy JV | £16,571,915.39 | £23,320,040.50 | £25,810,934.86 | £65,702,890.75 |
| Costain/Skanska | £12,723,134.50 | £27,337,978.04 | £16,319,760.12 | £56,380,872.66 |
| Balfour Beatty/Vinci JV | £19,845,835.05 | £12,880,476.68 | £15,375,525.15 | £48,101,836.88 |
| Align JV | £18,808,477.37 | £14,748,846.49 | £13,161,751.32 | £46,719,075.18 |
| Eiffage/Kier | £10,523,889.73 | £5,694,995.12 | £19,535,431.37 | £35,754,316.22 |
| Fusion JV | £11,589,966.95 | £9,274,325.47 | £14,446,838.20 | £35,311,130.62 |
| Skanska/Costain/Strabag | £0.00 | £15,034,367.78 | £16,279,522.49 | £31,313,890.27 |
| Ove Arup | £8,746,241.74 | £5,839,036.54 | £4,756,828.17 | £19,342,106.45 |
| WSP | £6,626,803.99 | £3,736,591.85 | £5,366,428.72 | £15,729,824.56 |
| Aecom | £2,449,149.01 | £2,256,273.89 | £1,033,582.49 | £5,739,005.39 |
| Mott MacDonald/WSP | £2,404,455.90 | £1,681,967.26 | £693,098.44 | £4,779,521.60 |
| Mace/Dragados JV | £1,137,201.54 | £1,542,562.73 | £2,013,179.15 | £4,692,943.42 |
| Turner & Townsend | £1,105,639.73 | £794,494.14 | £2,390,266.88 | £4,290,400.75 |
| Balfour Beatty | £1,141,847.20 | £429,141.24 | £1,487,427.73 | £3,058,416.17 |
| Balfour Beatty/Vinci/Systra JV | £0.00 | £1,391,744.41 | £1,501,925.42 | £2,893,669.83 |
| Bechtel | £0.00 | £1,407,950.33 | £1,350,119.29 | £2,758,069.62 |
| Lendlease | £0.00 | £1,658,255.29 | £0.00 | £1,658,255.29 |
| Mouchel | £737,732.33 | £139,890.27 | £232,683.96 | £1,110,306.56 |
| Mott MacDonald | £309,922.16 | £488,207.07 | £41,338.80 | £839,468.03 |
| Atkins | £0.00 | £326,621.02 | £0.00 | £326,621.02 |
| Perfect Circle | £319,201.06 | £0.00 | £0.00 | £319,201.06 |
| Bam Nuttall | £0.00 | £130,621.97 | £141,153.33 | £271,775.30 |
| Systra | £90,605.36 | £0.00 | £115,242.17 | £205,847.53 |
| CH2M | £65,000.40 | £65,000.40 | £65,000.40 | £195,001.20 |
| Gardiner & Theobald | £0.00 | £0.00 | £134,193.00 | £134,193.00 |
| Wilkinson Eyre | £0.00 | £109,444.20 | £0.00 | £109,444.20 |
| Jacobs | £28,351.58 | £0.00 | £0.00 | £28,351.58 |
Source: Department for Transport