Institute proposes immigration system for architecture once UK leaves EU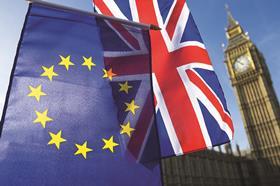 The RIBA has drawn up proposals for a post-Brexit immigration system designed to stop an exodus of talented architectural staff.
New president Ben Derbyshire, who took over from Jane Duncan last month, said measures such as urgently clarifying EU architects' status and reintroducing post-study work visas were essential if Britain is to retain its reputation for world-leading design. Without these steps there would be "an exodus, no doubt", he said.
Derbyshire said: "Our members are clear that Britain's exit from the EU must not imperil our pre-eminent position as a magnet for the very finest talent from around the world. UK architecture has benefitted enormously from the contribution of European and non-European colleagues, who have enriched architectural practice in this country.
"The RIBA's proposed immigration system aims to ensure that the UK can continue to embrace and attract people to live and work in the country. We are pressing the government particularly on the urgent need for certainty for our European colleagues currently living in country. Many of our valued colleagues are drifting away, and there will be an exodus, no doubt, if we impose unreasonable burdens on those who are fully aware of the positive contribution they have been making to our pre-eminent position."
The policy paper makes eight key recommendations to government and follows the RIBA's Global by Design report from February which revealed that more than 80% of RIBA members identified access of skilled talent from across the world as vital to the future success of UK architecture.
As many as 40% of non-UK EU respondents to the RIBA's Brexit Survey said they had "considered leaving the UK with earnest intent" following the EU referendum result.