Confidence among large architectural practices has slumped as a no deal Brexit looms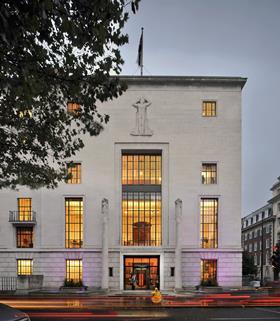 Large UK architecture practices have joined their smaller peers in expressing concerns around Brexit and the future of the domestic economy, according to new RIBA data.
The RIBA's latest Workload Trends survey found that firms with more than 51 members of staff were far more pessimistic at the start of the year than they had been December, recording a balance figure of -40, a sharp contrast with the previous month's +60.
RIBA executive director Adrian Dobson said the slump in workload confidence among large practices was "a cause for concern", noting that the lack of clarity about the Brexit process – and the potential for a no deal exit from the EU – was being cited by many firms as the biggest cause of concern.
Medium-sized practices (11-50 staff) were more upbeat in January, the RIBA said, with a +15 score edging up from December's +14, although small firms (1-10 employees) saw their cautious optimism of +1 at the end of 2018 reverse into negative territory of -5.
Regionally Wales and the West remained the most downbeat on -14, with London also suffering the jitters on -10, down from +1. Practices in the south of England were also cautious, registering a -6 score, and firms in the Midlands and East Anglia slipped from zero to -3.
Sector-wise the private housing sector workload forecast recovered a little from its slump fall last month (from zero to +3) and the commercial sector saw a modest rise (to -1 from -2). The public sector workload forecast remained in negative territory (-2), and the community sector forecast (-4) experienced another slight decline.
In terms of staffing levels the overall RIBA's Future Trends Staffing Index fell marginally to zero in January (down from +1), although the staffing forecast for large practices saw a significant reverse, falling to -40.
Medium-sized practices returned a staffing forecast balance figure of zero and small practices returned a figure of +1, edging out of negative territory.
On staffing Dobson said: "There is no doubt that practices of all sizes are cautious about increasing staffing levels due to the current climate of political and economic uncertainty.
"But this month's findings show that larger practices in particular feel far more vulnerable and warier than they have of late."