Market survey suggests workloads beginning to rise with housing market credited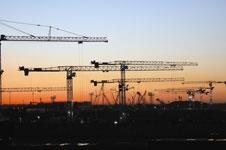 More construction professionals saw workloads rise last quarter than at any time since the end of 2007, the RICS has said.
According to the latest RICS construction market survey, 10% more surveyors across the country reported rising workloads than reported them falling.
The RICS said one of the main drivers was the boost in private housing construction, suggesting government initiatives in this area are beginning to bear fruit.
The survey also found that a net balance of 27% more respondents expect workloads to rise over the next 12 months with 22% more expecting employment to increase.
Simon Rubinsohn, RICS chief economist, said: "Although it's far too early to start talking about a recovery in the construction sector, the rise in output at the beginning of the year is a little better news.
"The government's attempts to stimulate the market seem now to be having some impact but there are still significant challenges to be overcome. In particular, the availability of finance and planning related issues continue to present obstacles to development."
Regional differences were once again apparent with London, the south east and the Midlands seeing increases in construction while the likes of Northern Ireland and Scotland saw workloads slipping.