Philip Lo replaces outgoing chair Brian Dackers, who retired from the global board this month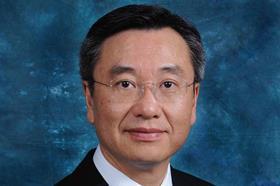 Rider Levett Bucknall has appointed a new global chairman, Philip Lo, to co-ordinate expansion of the consultancy's three international businesses.
Lo will retain his existing position as chairman of RLB in China and Hong Kong.
He succeeds former global chairman Brian Dackers, who retired from the global board this month, but will remain as managing director of RLB's office in Auckland, New Zealand.
Lo will work closely with each of RLB's regional management teams, including UK-based chief executive Lance Taylor and UK-based chair Ann Bentley, who are also both on the global board.
RLB employs over 3,000 people across more than 100 offices worldwide.
Our approach is to maintain our independence

Philip Lo
It was formed of three independent companies that merged in 2007 and were formerly known as Rider Hunt (based out of Australia), Levett & Bailey (based out of Hong Kong) and Bucknall Austin in the UK.
Based in Hong Kong, Lo will aim to build cross-regional relationships between the three businesses, best practice and implement the firm's five year global strategy.
Lo has over 30 years of experience at RLB and has working on projects in Hong Kong, China, Macau and Australia.
He is also on the management board of the Royal Institution of Chartered Surveyors.
Lo said: "I am delighted to be taking up this role, in which I will ensure that we continue to strive forwards and work in accordance with our five-year strategy to grow the business and support our customers.
"Our approach is to maintain our independence and ensure that we continue to deliver high-quality services based on outstanding technical skills, depth of experience, innovation and an absolute commitment to our clients and our people."