Delaying departure date will only pile on uncertainty, consultant's senior partner warns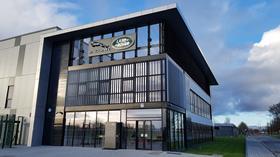 The senior partner at Ridge has added his voice to those calling for the UK to leave the EU at the end of next month for the sake of business certainty.
Adrian O'Hickey said the UK needed to leave on the departure date of 29 March rather than face months more wrangling: "There is no benefit in delaying. There is a time pressure on it to try and get a compromise to get a solution that people will support. I can't believe we won't come up with a relationship [with the EU] that won't allow the wheels to keep turning."
O'Hickey said the firm's London office had increased workloads since the beginning of last year and shrugged off worries about the UK leaving the EU next month.
London has been hit by a slowdown in commercial workloads but O'Hickey said its business had grown in the capital by 15% since the beginning of last year.
"I'm backing UK plc to make a success of it. There are some very good people here," he said. "It's frustrating we don't have clarity but a US-China trade war, for example, is going to have a more dynamic effect on the UK economy than Brexit."
He said the firm had been hit by some jobs stalling including work for Jaguar Land Rover which last month said it was cutting 5,000 jobs from its UK workforce with the firm blaming a slowdown in Chinese sales, falling demand for diesel cars as well as Brexit uncertainty.
But Ridge bucked wider worries about the economy to increase income 16% to £60.5m last year from 2017's figure of £52m.
O'Hickey said the firm was eyeing 10% growth this year but admitted: "It's unlikely to be hitting the 15%-plus figure we've had of the past few years."
Ridge has bumped up the number of equity partners to 20 after recently promoting four people to the role. Chris Bradburn, Adrian Goulding, Chris Haworth and David Johnson join the list with a further seven staffers promoted to partner level taking this number close to 50.
Following last year's acquisition of Cheltenham-based Hunter Page Planning, Ridge now has 11 offices across the country with its main office in Oxford where 200 people work. O'Hickey said he expected staff numbers, which number around 620, at the business to grow to more than 650 by the end of this year.