NHF chief executive says voluntary deal will 'fall' if government does not cover costs of discounts to buyers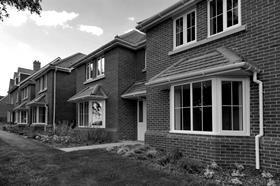 Housing associations will refuse to implement the government's Right to Buy policy if they are not fully compensated for sales by the government, according to the chief executive of the sector's trade association.
In strongly worded comments to a committee of MPs, National Housing Federation (NHF) chief executive David Orr said the voluntary deal over implementing the extension of the Right to Buy to the housing association sector would "fall" if the government failed to fully cover the costs of discounts given to buyers.
Orr's comment comes after the NHF was criticised for agreeing to voluntarily roll out the Right to Buy policy, after a vote in favour by members, in a move that means the government will not be forced to regulate for the change in the Housing Bill.
Asked by communities select committee chair Clive Betts MP what would happen if the government failed to cover the costs of discounts offered to housing association tenants to buy their properties under Right to Buy, Orr said the voluntary agreement would collapse. He said: "If there is full compensation then the sales will happen and the agreement holds. If for whatever reason there isn't full compensation the sales won't happen and the agreement will fall. Of course, this is the nature of a voluntary agreement. If the obligations are not delivered then we no longer have a voluntary deal."
The government currently offers a discount of up to £103,900 to council housing tenants who want to buy their own home, but the Conservative Party made extending this right to housing association tenants a central plank of its election manifesto. However, the government has been criticised for the fact that since revamping council house Right to Buy in 2011, it has replaced just one in 10 of homes sold off. The Chartered Institute of Housing said last month that 7,000 council homes a year could be lost to the sector if the government didn't increase funding to compensate for sales.
However, Orr said that if the government did adequately compensate housing associations, the sector would commit to replace homes on a one-for-one basis, and that there was "no opt-out" from offering Right to Buy for associations which voted against the voluntary agreement.