Chief executive of National Housing Federation denounces plans to extend Right to Buy to housing association properties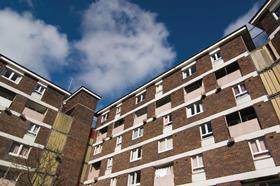 The National Housing Federation has slammed the government's plan to extend the Right to Buy scheme to housing association homes as "preposterous".
Chief executive of the NHF David Orr said the sell-off of council homes at a discount does not make sense when 1.7 million people are on social housing waiting lists in England and Wales.
The comments come after the Department for Work and Pensions announced it was considering plans to extend the Right to Buy scheme to 2.5 million housing tenants.
In response to the idea to extend Right to Buy to housing association homes, David Orr, chief executive at the National Housing Federation said: "Giving away housing association homes is so preposterous, it cannot be considered a serious solution to our housing crisis. We need a long-term plan to end the housing crisis within a generation not exacerbate it.
"We fully support the aspiration of homeownership, but not at the expense of the 1.7 million people currently waiting for desperately needed social housing across England."
The news of the possible extension came as the London Assembly published a report showing that even though more homes were being built, London had lost 8,000 social houses in the past decade as estates were demolished and rebuilt.