Exclusive: Consultant scoops role on £20m Bow Street Magistrates Courthouse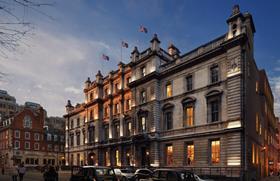 Consultant Rise has won the construction management role on the high profile £20m conversion of Bow Street Magistrates Courthouse in central London into a hotel and police museum, writes Iain Withers.
Rise has picked up the job after McLaren, which was reported to have won the main contractor role on the job in June 2013, left the project. Construction data service Barbour ABI says McLaren left its role on the project in April this year.
Rise will convert and extend the 19th century grade II-listed courthouse in London's Covent Garden area into a 100-bed luxury hotel and a police museum for client Bow Street Hotel Limited.
The conversion works, designed by China-based architecture practice Neri & Hu, will also incorporate a bar and restaurant.
The museum will be built in and around the original ground floor police cells, which once housed prisoners including the Kray twins, Oscar Wilde and Casanova.
The work will include the construction of a part six-storey and part three-storey extension along the north, south and east sides of the rear court yard, and a two-storey extension above the existing Martlett Court Wing.
Rise was founded in November 2011 by former Mace figures Ian Eggers and Bob White, and architect Gareth Stapleton.
Other major Rise projects include the project manager role on construction of the UK Pavillion for next year's Milan Expo.
Bob White, chairman of Rise, said: "It is a great sign of growth for Rise to have been awarded the construction management contract for the Bow Street Hotel. We are extremely excited to be working on such a high-profile project."