Feasibility study will also investigate re-using existing power station infrastructure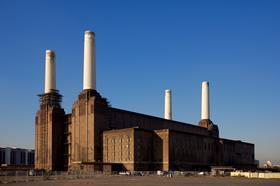 The River Thames could provide a renewable heat source for the Battersea Power Station development, if a feasibility study proves successful.
Utility SSE has announced it will examine the potential of the Thames as a heat source for the £2.3bn redevelopment of Battersea Power Station.
The feasibility study on a water source heat pump will also investigate the re-use of existing infrastructure from the power station, built 80 years ago to connect the site to the Thames.
The news came as the government launched an interactive water source heat map last month, and estimated that the UK's 4,000 rivers and waterways could provide over six gigawatts of heat energy.
Water source heat pumps operate by taking heat from the water and feeding it into local heat networks or single buildings, providing a low-carbon source of renewable heat to local areas.
The water source heat map provides developers and homeowners with information on the feasibility and practicality of installing a heat pump.
The government estimates that one million homes and businesses could tap into renewable heat from the UK's waterways.
Energy Secretary Ed Davey said: "We need to make the most of the vast amount of clean, renewable heat that lays dormant and unused in our rivers, lakes and seas."
Philip Gullett, chief operating officer at Battersea Power Station Development Company, said: "Being located on the banks of the River Thames in central London, we are ideally placed to investigate what role water source technology may play in supplying our energy needs. SSE will be undertaking a feasibility study to establish the options available to us."