Contractor says roofer's heat gun sparked major fire at its £50m student accommodation scheme in Southampton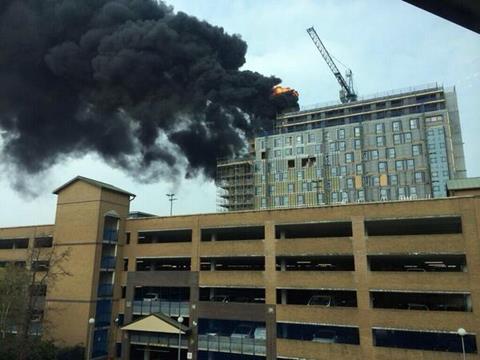 A roofer's heat gun was to blame for sparking a major fire at Osborne's £50m student accommodation scheme in Southampton last week.
An Osborne spokesperson said the blaze, which ignited on the roof of the building last Thursday (3 April), was sparked by a roofer's heat gun "accidentally setting fire to insulation which was being installed onto the roof".
"This is what caused the black smoke," the spokesperson added.
The spokesperson said the blaze was confined to the construction materials on the roof the building.
Fifteen fire engines were called to deal with the blaze on the roof of the student accommodation block in the centre of the city on Thursday morning, with around 270 workers evacuated from the site and roads around the area were closed. No one was hurt during the incident.
The £50m Mayflower Halls, which topped out in February, will house 1,104 students when it is complete.
Osborne said the expected completion date of the scheme would not be delayed as a result of the blaze.
The spokesperson said: "Osborne still anticipate that the completion of the development for the new academic year will not be affected by this incident."