Contracting group will embark on cost-cutting drive after hits on problem jobs in the UK and Germany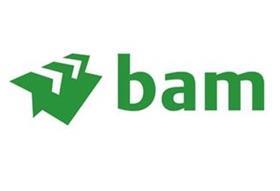 Royal Bam Group will embark on a €100m (£79m) cost cutting drive after being hit by €75m (£60m) of losses on problems jobs in the UK and Germany.
Royal Bam, the Dutch parent company of its UK-based divisions Bam and Bam Nuttall, said the "cost reduction programme" would come for "streamlining" the structure of its operating companies.
In the UK "unexpected problems at a mid-sized civil engineering project", bid in 2012, caused by "a combination of adverse ground conditions and bad weather", contributed to the project losses.
In Germany "deterioration of a large civil engineering project", also due to "adverse ground conditions", was also "one of the handful of loss-making projects", Royal Bam said.
The firm said it will consider "all other opportunities to further strengthen its financial position, including divesting other assets."
Nico de Vries, chairman of the executive board, said: "I am extremely disappointed to have to announce these negative developments.
"Our underlying strategy is the right one, but our delivery has not been good enough. It is fully clear to the executive board that BAM must act urgently and decisively to get all parts of the group to contribute positively to our results. That is why we are taking the actions being announced today."