Worries mount over debt and corporate governance in wake of Carillion collapse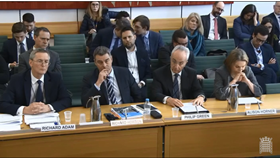 Contractors would do better to improve their corporate governance rather than hold out unrealistic hopes of pushing margins towards 5%, a number of analysts have told Building.
As the reporting season for listed contractors kicked off last week with Galliford Try's interims and Morgan Sindall due to report full year results on Thursday, the issues of margins has been thrown into the spotlight following Carillion's collapse.
Last month, MPs berated the firm's former executives for aggressive bidding at low margins.
Its former chairman Philip Green (pictured, second right) admitted: "The industry itself is low-margin. This is a very competitive industry."
And MPs heard from Carillion's former finance director Richard Adam (pictured, far left) about why it bought Alfred McAlpine which ended up saddling it with a growing pension deficit.
Explaining the 2008 deal, he said: "The strategy was to move the group toward support services, which carries higher margins, usually in excess of 5%, and move the weighting away from the construction business, which on average had margins of around 2.5%."
While contracting bosses of some of Carillion's rivals have publicly stated their aim of boosting margins 5% in future, City analysts have warned that such a focus could prove a distraction from running their businesses better in the wake of Carillion going bust.
Profitability in contracting "is a total accident", according to Tony Williams of Building Value. "The key is to avoid having a howler on the books. Some jobs work, some don't. Hoping that if you've bid lower than you think a job will cost and be able to make up the difference over the course of the project so as to come out on top by 1%, 2% or 3% is speculative in the extreme."
Cenkos Securities analyst Kevin Cammack said margins are more about cyclicality than anything structural. "It's virtually impossible to maintain 2% or 3% margins throughout all economic cycles and you can't set targets for such things without accounting for where you are at any particular time."
Cammack also wants firms to have stronger balance sheets. "Debt has gone mad and capitalisation for these businesses is woefully small for the work they are taking on."
He said Carillion was a reminder that corporate governance in companies needed to be robust. "We are talking about a competitive industry which won't change overnight, but it will hopefully make for better corporate practice."