Construction Industry Cycling Commission calls for investment in safer vehicles and road user training schemes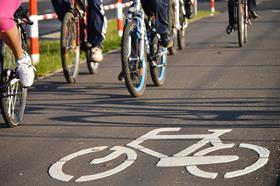 A manifesto for the construction industry aiming to help improve road safety for cyclists has been published by campaign group the Construction Industry Cycling Commission (CICC).
The 10-point manifesto – backed by property and construction leaders including Almacantar boss Mike Hussey and New London Architecture chairman and Cycle to Mipim founder Peter Murray – calls for firms to invest in safer vehicles, publicity campaigns on site hoardings and training schemes for road users.
The manifesto is based on CICC-commissioned research conducted by consultants Phil Jones Associates and TMS Consultancy, which found that although HGVs only account for 3.5% of traffic across the capital, they were involved in 57% of crashes in which a cyclist was killed between 2007 and 2014. Many of those accidents concerned HGVs involved in construction activities.
The research also found 62% of cycling fatalities occurred at traffic signals where large vehicles were turning left or moving off, which prompted the Greater London Authority to propose in September regulations to minimise left-hand turns made by lorries in the city.
The manifesto recommends that all organisations adopt the Construction Logistics and Cyclist Safety standard on all schemes - a set of standards for HGVs that includes eliminating all blind spots and fitting guards and warning systems to protect other road users.
It also recommends that local authorities enforce safety measures through section 106 planning agreements with developers.
Murray, a member of the CICC, told Building he hoped the manifesto would help "raise awareness throughout the industry of the issue".
He added: "The industry over the years has been very good at delivering health and safety on site. We need to make sure that care happens once the lorry has left the site as well - there is still a responsibility once the lorry is outside the direct boundaries of the site."
The CICC was set up in early
2015 to improve road safety for cyclists in relation to construction HGVs. Other members include Geoff Rich, managing partner of architect Fielden Clegg Bradley, Steve Whyman, managing director of Broadgate Estates and Stuart Ford, cycle lead for the City of London Police.


CICC 10-point manifesto for change in full
1. For all property developers and contractors to recognise that health and safety on the road is as important as it is on site
2. For cycle safety to be recognised as part of the Considerate Constructors' accreditation, ensuring that all lorries used on sites have the requisite safety features, and that drivers are properly trained
3. For the industry - large and small organisations - to adopt the CLOCS standard as a default requirement on all construction schemes in London and other major cities, and wherever significant interaction between HGVs and cyclists can be expected
4. For investment in safer vehicles to be made ahead of regulation, such as direct vision cabs, skirts, and specific safety standards and equipment
5. For the construction industry to fast-track discussion and action around changes to vehicle safety, which might include the retrofitting of older vehicles and retiming of journeys to avoid morning peak hours
6. For design professionals to be better trained in the design and planning of safer environments for vulnerable road users
7. For property developers to use hoarding and wraps of new developments to deploy helpful safety advice for cyclists and drivers
8. For the construction industry to support training for all road users
9. For the construction industry to support the campaign for greater separation between cyclists and HGVs in time and/or space at junctions and on links, and helping to disseminate information on primary routes used by HGVs
10. For the construction industry to support more detailed research to understand the circumstances surrounding lorry/cyclist collisions to identify the root cause of injuries, fatalities and near misses