Inspection of glass on AHMM-designed office block comes after pane fell from building last week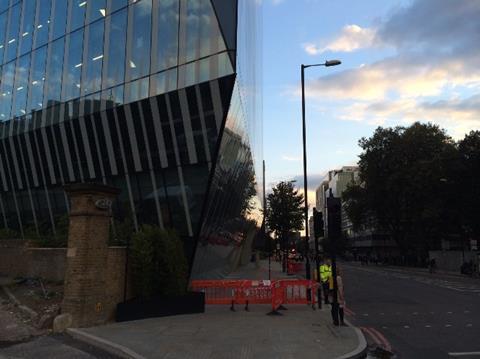 Hundreds of glass panels on a new building designed by architect AHMM are going to be inspected after a large pane of glass fell several storeys on to the pavement below.
The glass fell from Great Portland Estates' (GPE) 240 Blackfriars office building on the corner of Blackfriars Road and Southwark Street last week but no one was injured.
The £65m project, which was built by contractor Mace, reached completion earlier this year and is now being fitted out ahead of occupation next year. It will be the new home for UBM, which publishes Building.
Now GPE has said it will be installing protective scaffolding around the external perimeter of the building which should be completed at the beginning of November.
It said that every single panel on the building will be independently inspected and tested to confirm that it is structurally sound and safe. The testing process is likely to run into early January. UBM is due to move in during the middle of the following month.
Following the incident, GPE chief executive Toby Courtauld told Building: "We have people on site to ascertain what happened and to make sure it doesn't happen again."
Mace said it was working "very closely" with GPE on the incident.
The building will provide 19 commercial office levels, an adjacent five-level residential building and retail elements.
UBM's current home at Ludgate House is due to be demolished later next year. It is being torn down along with the nearby Samson House and will replaced by a scheme designed by PLP which includes a 48-storey tower.