Former leader of the Scottish National Party says Liverpool or Manchester would be an ideal site to rebuild the Houses of Parliament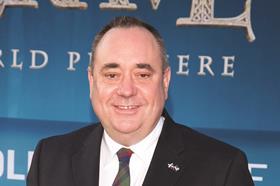 The Houses of Parliament should be rebuilt in Liverpool or Manchester with a detailed replica of the Commons' debating chamber, Alex Salmond, the former first minister of Scotland, has argued.
Speaking to Building ahead of the Scottish National Party's annual conference, which began in Glasgow this morning, Salmond said the move was needed to "equalise" the economy so it was less dependent on London.
MPs are due to vote soon on whether to press ahead with vital renovation plans for the Palace of Westminster, which is riddled with rodents, asbestos and plumbing problems, that are expected to take six years to complete at a cost of around £4bn.
Many MPs, though, are furious that relocating Parliament into a new building with modern technology, preferably outside of London, has not been considered.
Salmond said that by the time a new parliament was built or refurbishment was completed, currently estimated at 2028, Scotland would be independent.
He said: "This place [the Palace of Westminster] should become a museum. My advice would be to build a modern parliament in Manchester, Liverpool, somewhere in the north of England - obviously Scotland will be independent by then - to equalise the country.
This place [the Palace of Westminster] should become a museum

Alex Salmond, SNP
"I would, just for sentiment's sake, have the debating chamber be a mimic of this debating chamber here, the same way as [1990 UK political drama] House of Cards did. We could do it for a fraction of the cost and this place would get more tourists than it does at the
present moment."
Salmond insisted that turning the Palace into a museum would be far cheaper than making it fit for 21st-century office use because repairs and upgrades would be less extensive. He believed the £4bn cost is likely to prove a vast underestimate of the final price tag.
He added: "The basic refurbishment that costs the money is to secure it for working conditions. The amount to stop it collapsing is relatively small, the amount to replace the asbestos and make it safe is extensive. But the cost to make it compliant with modern technology is horrendous.
"I would secure the tourist trail, make it the museum it should be, instead of people having to just traipse in and out, and build somewhere else."
Salmond has experience of troubled political buildings, having opposed the construction of the Scottish Parliament in Holyrood, Edinburgh when cost estimates rose from £50m to £230m in 2000. The eventual cost was £414m.