Property firm in charge of more than 60 sites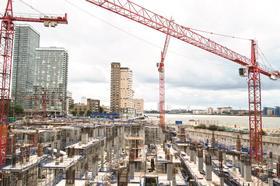 The Crown Estate has appointed Savills to manage more than 60 of its sites over the next three years.
The plots have space for 15,000 new homes and 5 million sq ft of commercial space.
Savills' work will involve piloting sites through the planning process and helping out with land acquisitions and disposals.
Steve Melligan, strategic land manager at The Crown Estate said: "Savills' expertise and experience will make a valuable contribution to the development and growth of our strategic land portfolio, where we take a considered and collaborative approach to bringing forward the right sites, in the right places."
Sites being managed by Savills include a parcel of land to the east of Hemel Hempstead where 2,500 homes could be built along with commercial space. Other plots include one at Bingham in Nottinghamshire which already has planning for 1,050 homes and 16 ha of commercial space and sites for potential new homes at Luton and Knutsford in Cheshire.
Peter Blake, director in Savills funding and development team, who is leading on the project, said: "[The Crown Estate] has a significant appetite for new acquisitions, so our 650 strong development division will be on the look out for new opportunities."