Job is for ongoing restoration of HMS Victory
A search has begun for a firm to build scaffolding for the restoration of HMS Victory, Horatio nelson's flagship at the Battle of Trafalgar.
The National Museum of the Royal Navy (NMRM) is looking for a contractor to provide a multi-level tented access and work platform around the 250-year old ship at its dry dock berth in Portsmouth. The £2m job is part of an ongoing £40m restoration programme which has already seen a hi-tech suspension system fitted beneath the ship to prevent its timbers from sagging.
The scaffolding will enable the next phase of the restoration, which involves removing and replacing all external and some internal planking.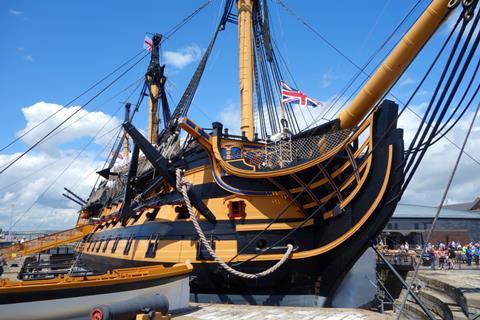 It will also involve construction of a site office and welfare facilities within a secure area to allow public access to the ship, which is intended to remain open as a visitor attraction throughout the works.
The NMRM said it is looking for scaffolding firms with experience on heritage and conservation projects and the ability to work alongside visitors.
The works are anticipated to involve four three-year stages - starboard; the bow; portside and the stern. Work is underway to establish whether the starboard and portside phases can be combined into a single scaffolding programme.
The design of the scaffolding must also include ventilations systems and fire detection and suppression systems, including fire curtains and sprinklers to prevent damage to the ship while the works are carried out.
Launched in 1765, the ship is best known for her role as Nelson's flagship in the decisive 1805 Battle of Trafalgar. The Royal Navy saw off a combined attack from the French and Spanish during the Napoleonic Wars, although the victory proved bittersweet with the death of Nelson at the height of the engagement.
The ship was eventually relegated to the status of a harbour ship in 1824 before languishing in Portsmouth harbour for the rest of the century. She was saved from being broken up on the personal intervention of King Edward VII and is now a major tourist attraction.
Since 2012, she has been the flagship of the First Sea Lord, the head of the Royal Navy, and with 243 years of service is the world's oldest naval ship still in commission.