Government data shows number of homes built for social rent has slumped 78% in a decade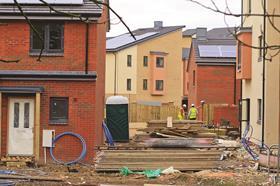 Scape Group chief executive Mark Robinson has called on local councils to be empowered to build more homes after new government figures showed the number of units built for social rent in England had fallen by 78% over the past 10 years.
New data on the state of affordable housing supply from the department for housing, communities and local government showed that 6,463 homes for social rent have been built this year, versus the 29,645 units built in 2007/08.
While this year's figures were provisional, Scape's Robinson said local councils had to "find a way to persuade government they are best-positioned to address the challenge and that they have a credible plan to achieve results".
Robinson said that the housing association model had worked for the management of estates, but it was not building homes for social rent at the scale required.
Quoting figures from the Local Authority Housing Register for England, Scape said the average local authority had more than 3,500 families on its council housing waiting list. In England alone, 1.25m families were on the waiting list for social housing between 2016/17.
Councils built 121,000 homes for social rent in 1977, and local authorities needed to "demonstrate they have a plan to circumvent problems, such as the skills shortage in the construction industry, that could hold back a huge increase in the construction of social rented homes", Robinson said.
The government also needed to change the planning system in order to create fast track routes for modular homes to be built, he added.