Units using thermal mass of pupils can be extra classrooms or basis of new school buildings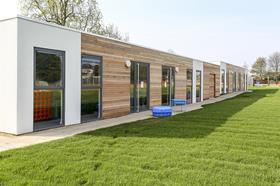 The design arm of procurement organisation Scape is in discussion with local authorities about the roll-out of its latest design for modular school buildings - classrooms largely heated by the children using them.
The design concept, called Connect, has already been used to build classrooms to house 4,500 pupils, predominately in Bedfordshire. Scape is now in discussion with a series of other local authorities including several London boroughs, Milton Keynes, Lincoln, Warwickshire and Nottingham City over using the design to meet the need for school places in their areas.
The Connect concept uses off-site manufacture to create classrooms that can either be added to existing premises or configured as whole multi-storey schools, which have an air tightness result of 1.48m3/hr per m2 at 50Pa, under the standard measure for airtightness.
As a result, much more of the energy produced naturally by the children is kept inside the building than in a typical school, reducing the need for heating.
Simon Reid, Scape head of design, said: "The design uses electric underfloor heating but this is merely a booster as when the children come in each day full of energy, they effectively provide thermal mass. Schools have seen a significant reduction in energy bills."
Reid said that the design, which creates permanent structures that can be adapted to the requirements of different sites, was initially developed due to the need to replace a number of temporary classrooms that were in use in Bedford and had outlived their lifespan.
He said: "They had mobile units that were designed for three to five years, but had been there for 10 to 20. The authority wanted to replace them with something that looked like a permanent building."
The classrooms are built using a streamlined construction process which saw 21 classrooms across 11 sites delivered in six months in Bedfordshire last year. There is also
a version of the design that can be constructed on site using traditional methods.
So far the concept has been largely delivered by Kier and Willmott Dixon through Scape frameworks, but Reid added that there was scope for alternative procurement routes.