Exclusive: New framework will be awarded to single contractor and will focus on flood defence and other civils projects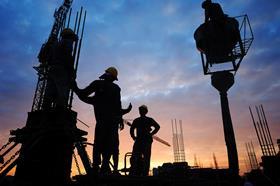 Public sector procurement body Scape is to move into civil engineering work for the first time with the launch of a £1bn framework focused on rail, roads, flood defence work and other infrastructure projects, Building can reveal.
Mark Robinson, chief executive of Scape, said the local authority-owned procurement body was "about a month away" from tendering for a single contractor to deliver a new £1bn national infrastructure framework.
Speaking to Building at the Mipim property conference in Cannes this week, he said the framework would cover "rail, roads, bridges, public realm and flood defence work", among other civils projects, and would last for four years.
Over 350 public sector clients procure work through Scape, but until now it has mainly focused on the building sector, with work including schools, care homes, leisure centres and residential schemes.
[Civils frameworks] are a natural evolution to our portfolio

Mark Robinson, Scape
Scape runs a number of frameworks, covering building projects large and small. Last year it appointed Willmott Dixon to its much-coveted £1bn national major works framework.
However, Robinson said there was a demand from local authorities and other public sector clients, including the Highways Agency and the Environment Agency, for a new infrastructure framework.
Robinson cited the need to repair the damage cause by the recent flooding around the country as one example of the need to have contractors on hand to deliver infrastructure schemes in a hurry.
He said: "I was talking to a district leader in Somerset and he was saying he wants a framework that he can access immediately, they need something that is quick and efficient."
He added: "[Civils frameworks] are a natural evolution to our portfolio. We are really looking forward to getting some top quality bids on it."
Scape is owned by six councils - Gateshead, Derbyshire, Derby, Nottinghamshire, Nottingham and Warwickshire – and reinvests surpluses back into the business.
Robinson said that Scape grew by 30% last year and planned to grow its business by 10% each year between April 2014 and April 2017.
However, he said main contractors should not be concerned about being squeezed out of the public sector market.
"About 50% of the public sector construction work in the UK is traditionally tendered," he said, adding that this meant there was a large pipeline for contractors outside Scape's frameworks to bid on.
He said: "We tell clients not to use us exclusively."