Public spending watchdog raises concerns over Education Funding Agency's survey of the condition of schools around the country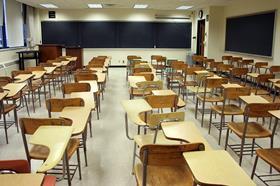 The government's comprehensive survey of the condition of schools around the country is running £6m over budget, the public spending watchdog has found.
In a report on the performance of the Education Funding Agency (EFA), National Audit Office said the agency's Property Data Survey Programme, which was due to report last October but remains incomplete, requires a further £6m in spending.
The report said the survey, being carried out by consultants Capita, Davis Langdon and EC Harris, still needed to survey a further 8,000 schools.
The property survey was aimed at create a database of the condition of every school in England – around 23,000 schools - in order to inform future school capital allocations.
However the report said: ""The EFA planned to complete a survey of the school estate by a challenging deadline of October 2013, although the [James] review of education capital in 2011 had recommended that this should be done over five years.
"Due to inconsistent data received from local authorities, the agency did not meet its deadline and still needs to survey 8,000 schools at a cost of £6m.
"Not receiving this data on time has affected future capital funding decisions."
The report also found that the EFA was struggling to fill a high number of staff vacancies, with 5% of positions vacant in November 2013.
It said the EFA was set to post a £1.3m underspend for 2013-14 due largely to a high number of vacancies.
"The EFA has had difficulties in filling vacancies, due to its changing demand for skills and the fact that the skills it now requires, such as in construction and IT, are in short supply."
The report also warned that the EFA was facing an increasing demand for its services, with its customer numbers forecast to rise by 50% to almost 12,000 between 2012-13 and 2015-16.
Overall the NAO said the EFA had" fulfilled most of its day-to-day funding and assurance responsibilities".
In response to the report, Margaret Hodge MP, chair of the Committee of Public Accounts said since its creation in April 2012 the EFA had "performed well against the growing and changing remit which the Department for Education has given it".
She added: "The department, however, needs to make sure that it clearly understands the delivery capability of the agency so that it is clear about what it expects the agency to achieve.
"I fail to see how the agency can reduce costs by 15% whilst simultaneously expecting to see a 50% increase in demand for its services.
"There is a real danger that the agency will simply become overloaded, putting at risk the value for money it achieves from its £51bn of funding."