Financing scheme to run for at least 12 months
More uncertainty hit sites last night after schools across the country were ordered to close tomorrow (Friday). The news came a short time after the Bank of England unveiled details of its plan to allow larger contractors access to cheaper capital so they can keep going in the wake of the coronavirus crisis.
The Bank's Covid-19 Corporate Financing Facility, set up by the Treasury to support firms who have been hit by a funding squeeze, will run for an initial 12 months – suggesting the government recognises that getting back to normality will be a long haul for firms.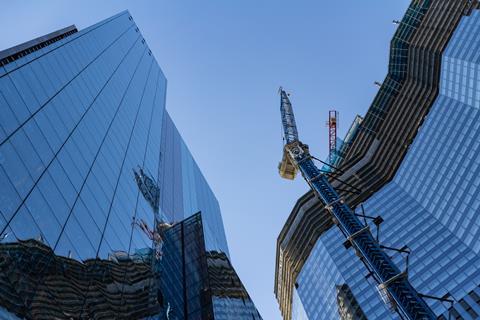 In a market notice published yesterday afternoon, the Bank said: "Eligibility decisions will be made by our risk management staff, taking into account a number of different factors.
"Companies with significant employment in the UK or with their headquarters in the UK will normally be regarded as meeting this requirement. We will also consider whether the company generates significant revenues in the UK, serves a large number of customers in the UK or has a number of operating sites in the UK."
But it warned: "[It] will be open to firms that can demonstrate they were in sound financial health prior to the shock."
The Bank said that more details about the scheme, which is being financed by central bank reserves, will be announced on its website this Monday including application forms, terms and conditions and operating procedures.
The Bank's new boss Andrew Bailey said it will "support [firms] in paying salaries, rents and suppliers, even while experiencing severe disruption to cashflows".
The move is intended to free up banks to lend to smaller and mid-market firms by expanding the capacity of the banking system.
Mike McCartney, EY's director of capital and debt advisory, said smaller and mid-market firms set to benefit from more bank support will typically have turnovers between £5m and £50m.
"Banks will be doing what they can to support existing clients," he added. "Banks will want to avoid a situation where they're seen to have acted unreasonably and caused an insolvency."
And he added that the government would be targeting support to contractors. "Construction is vital for their infrastructure agenda," he said.
The details were announced before the government said schools across the country would be shutting this Friday until further notice.
There is also growing speculation that London could soon be facing tougher coronavirus measures to slow down the spread of the disease in the capital. It is expanding there at a faster rate than the rest of the country.
Prime minister Boris Johnson said: "We do not rule out taking further and faster measures in due course."
Questions are being asked about what sort of impact the move to shut schools will have on the ability of sites to keep open or operating at the levels of just a week ago.
Speaking before the closure was announced, EY head of construction Ian Marson said: "Most people's expectations are that you might have to close sites for two or three months."
He said sites were already experiencing materials shortages and added: "You may have to close sites if one or two key individuals get ill with the virus. The other thing is, there is a health and safety issue for employees picking this up and passing it on to family members."
Sites in London are especially reliant on a fully running public transport network as workers need to get to jobs by Tube and bus. But there are worries the capital's transport network will be hit by the schools closing.
One senior industry source told Building that closing schools would not have the economic impact of closing down swathes of sites. "Shutting down the construction sector is a much bigger call and will be a huge body-blow to an already fragile industry," he said.
The number of coronavirus cases in the UK jumped by 676 on Wednesday to 2,626, with the number of deaths now standing at 104.