First minister Alex Salmond demands cash injection to revive sector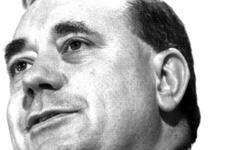 Scotland's first minister Alex Salmond has demanded an immediate £400m cash injection from the UK Government to reverse the Scottish construction sector's slide into recession.
GDP figures this week showed the country's construction output shrank 6.9% in the first quarter of this year.
Salmond said: "The Scottish Government submitted a list of shovel-ready projects to the UK Government in February, but no immediate action has yet been taken by the Prime Minister or his Chancellor.
"Announcements about rail investment in three years time are no substitute for capital spending now.
"The u-turn of providing guarantees to loan finance of up to £40 billion is welcome but is subject to companies having the confidence to invest in major infrastructure projects and meeting the necessary criteria. This scheme will take a year or more to get off the ground but investment is required immediately.
"Therefore, we now need a further Budget u-turn with an impact to make an immediate difference.
"We need direct capital spending on shovel ready projects to the tune of some £5 billion. The Scottish Government would guarantee that our £400 million plus share would be allocated in this financial year."