Springfield secures funding to last out crisis for 12 months
Listed Scottish housebuilder Springfield has prepared itself for a potential long-term shutdown of its business, securing new banking facilities which will enable it to withstand a year without trading, the firm said.
In a sign of the impact of the differing approaches to the coronavirus pandemic by the Scottish and UK governments, Springfield made the announcement as south of the border Redrow became the latest housebuilder to announce a return to sites.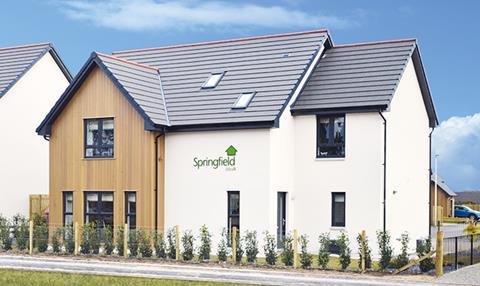 While the UK government has advised construction firms to keep sites operating where social distancing guidelines can be enforced, the Scottish government has said only essential construction work can continue and that new housebuilding sites should remain shut.
Springfield said it had now furloughed 90% of its staff, with executive and non-executive directors having taken a 50% salary cut and other senior managers taking a 20% pay cut.
According to its 2019 annual report, the firm had 705 employees in May last year meaning the firm has around 70 staff left.
The firm said it had agreed an additional £18m, year-long loan facility with the Bank of Scotland, taking its total facility to £85m. It said that its financial modelling had shown this loan will give the firm the ability to survive "even the most unlikely event of a 12-month shutdown".
This would be possible even allowing for the prompt payment of employees, suppliers and sub-contractors throughout the period. "The board is satisfied that the group is in a strong financial position and able to operate within its new facilities even under the most extreme of these highly stressed scenarios: a full year shutdown."
Springfield's approach contrasts with that of housebuilders in England, where a number of the biggest – Taylor Wimpey, Persimmon, Vistry and Redrow – have all announced a return to site in the past week.
Springfield said it had paused all non-essential spend, including postponing land spend and office rental and lease payments.