The power station collapsed three weeks ago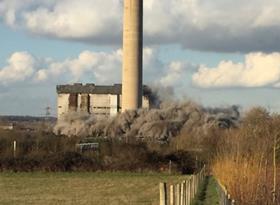 The search to find three men still missing after the partial-collapse of Didcot Power Station in Oxfordshire three weeks ago will resume this weekend.
The owner of the site, power company RWE, presented a plan to the Health and Safety Executive and Thames Valley Police for recovery of the men, after the search was temporarily paused due to safety concerns.
The HSE said large equipment and people would begin arriving at the site to enable the recovery operation to resume at the weekend, if not sooner, and the plan's progress would be closely monitored.
It is three weeks since the decommissioned Didcot A Power Station collapsed during work to demolish it by Coleman & Company, claiming the lives of one man, while three are still missing. The killed man was identified as 53-year-old Michael Collings from the Cleveland area in the north-east of England.
In a statement, Mr Collings' family said: "Mike was a much-loved husband, father, granddad, son, brother and friend. He had a huge enthusiasm for life and will be remembered for his kind and friendly nature. He loved everyone and everyone loved him.
"Thank you to everyone who has sent their condolences and to Coleman & Company and the emergency services for their support. We ask that our privacy is respected at this terrible time."
Mark Coleman, managing director of Coleman and Company, said: "Mick Collings was our colleague and friend, and we are devastated to hear this news today. Above all he was a husband and dad, and our hearts go out to his wife Lynn, his daughters Zoe and Stacey and his extended family. We are deeply sorry for their loss.

"This has been a terrible incident which has shocked everyone at the company, but our over-riding priority remains supporting the families affected. We will continue to keep in close touch with Mick's family to do what we can to help."