The 'Aldous Bill' is now set for a second reading on 23 November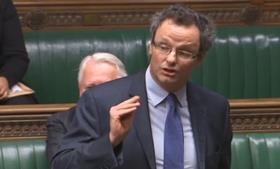 The second reading of the bill proposed by Tory MP Peter Aldous to reform retention practices in the construction industry has been pushed back for a third time.
The Construction (Retention Deposit Schemes) Bill 2017-19, which was due to be heard for a second time in the House of Commons tomorrow, is now pencilled in for a second reading on 23 November.
The second reading of the bill has already been pushed back twice, having been due to be read on both 15 June and 27 April.
Aldous (pictured) first introduced the bill six days before Carillion collapsed.
Despite the further delay support from across the House is on the rise, with almost 40% of MPs throwing their support behind the bill.
The current defence secretary, a former chancellor and the leader of the Liberal Democrats are among the MPs backing the scheme.
Gavin Williamson, Ken Clarke and Vince Cable have been joined by a raft of other big names to support the bill, with shadow chancellor John McDonnell, Green party leader Caroline Lucas and high-profile Conservative Remain supporter Anna Soubry all signalling their support.
A number of new high-profile supporters now backing the campaign include education select committee chair Robert Halfon, treasury select committee Chair Nicky Morgan and shadow cCabinet members John Trickett and Andy MacDonald.
But a noticeable absentee from the list is construction minister Richard Harrington.
Alexi Ozioro, BESA public affairs and policy manager said while Harrington had not officially backed the bill, he had made it clear that he would legislate on retentions.
In an interview with Bloomberg Harrington said that while he had reservations about the backbench member of Parliament's proposed law, his intention was to legislate.
"I will have to," Harrington said. "A voluntary code only works for people who agree with it. I'm not going to faff around. We've got to decide in the next few weeks which way to jump."
Meanwhile a bill proposed by Labour MP Andy Slaughter that would mean contractors carrying out public works would be subject to freedom of information requests is still due for the second reading tomorrow.
Slaughter is due to give a second reading of his Freedom of Information (Extension) Bill on Friday, which would bring all information held by a public service contractor about the contract's actual or planned performance under the remit of freedom of information requests.
The bill, which had its first reading in July last year, went unheard when it was due to be read on 16 June, despite being the second item scheduled to be heard.
The proposal to extend Freedom of Information powers would place firms that supply government, like Carillion and Interserve, under greater public scrutiny.