Decision on Renzo Piano-designed £775m scheme
Renzo Piano's Paddington Cube has been given the green light by Westminster planners – despite a string of objections from heritage bodies.
At a planning meeting last night (Tuesday), the £775m scheme, known as Paddington Quarter, was OK'd paving the way for a 14-storey, 33,500 sq m office block that will sit 12m above new public realm.
The scheme, which is being developed by Sellar Property and Great Western Developments, replaced Piano's earlier plans for a 72-storey pole filled with luxury apartments, which was later withdrawn by the developer earlier this year.
The plans also include a new public plaza, complete with £2 million worth of public art, around 7,500sq m of retail and restaurant space over five levels including a rooftop restaurant and a new station for the Bakerloo underground line.
Westminster's deputy leader Robert Davis hailed Piano as "one the great architects of our time" and added: "These plans are a game-changer, breathing fresh life into the area. It is a big, ambitious project that secures a £65 million investment in public space and transport infrastructure and will create around 4,000 new jobs.
"The Cube development will create the infrastructure we need to build a brighter future for this part of Westminster."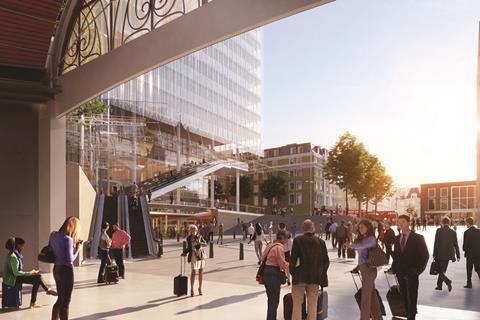 But Save Britain's Heritage became the latest heritage group to voice its opposition to the plans ahead of last night's vote – joining Historic England and the Victorian Society.
Save president Marcus Binney said: "The proposed Paddington Cube is a violation of both Baywater and Brunel's Paddington station, a world renowned masterpiece of railway engineering.
"The Cube is outrageously and gratuitously overscaled and will be one of the biggest blots on the London townscape for years. It will overwhelm both Brunel's station and the handsomely restored Great Western Hotel, as well destroying the handsome Edwardian Post Office sorting office."
And Binney said Westminster was in danger of ruining its reputation as an enlightened planning authority.
He added: "For years, Westminster's planning and design policies focused on conserving the character of the Borough, and set an example to the whole of Britain. If this proposal is passed, the borough will be trashing its own once-fine reputation."
Historic England said the design is at odds with the character of the area, which includes the Bayswater Conservation Area, and the grade I listed Paddington station as well as the grade II St Mary's Hospital and another nearby grade II listed building, the Great Western Hotel.
The proposal which was OK'd last night includes plans to build a new road – paid for by the developer – which will be a direct ambulance route into St Mary's.