Flooding and winter storms at beginning of the year takes toll as output falls 2.8% in February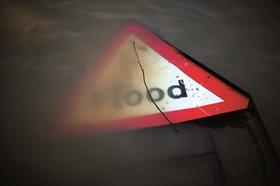 Flooding and severe winter storms at the beginning of the year saw construction output fall 2.8% in February, when compared to January, but the short-term fall masked a more positive long-term trend.
The latest Office for National Statistics (ONS) output figures showed total construction output was down 2.8% in February, when compared with January – equivalent to a £270m drop - but rose 0.3% when the three months to February were compared with the previous three months.
When comparing February 2014 with February 2013, construction output was up 2.8%.
The ONS cited adverse weather conditions at the beginning of the year, with severe winter storms and flooding, as the primary reason for the short-term fall in output, with subsequent repair and maintenance work yet to be recorded in the data.
The figures showed that all new work fell 2.6% between January and February, with private new housing – which has shown strong growth since March 2013 – falling by 6.3%.
The ONS said the declining trend in infrastructure continued in February, with output down 3.7% month-on-month.
Total infrastructure output in February was estimated at £1.04bn – which is around 24% or £320m below its peak of £1.36bn in December 2010.
Repair and maintenance work fell 3.1% in February when compared with January, but rose 2.3% year-on-year.
The ONS said the latest data also showed the disparity between private and public sectors, with total construction output across the private sector up 1% in February when compared with the previous year, while output across the public sector was down 6% year-on-year.
The total level of new work was estimated at £5.8bn in February, down 12.3% below its monthly peak of £6.6m in June 2011.
Simon Rawlinson, head of strategic research and insight at EC Harris said the latest data was "disappointing".
He said the 2.8% month-on-month fall was "likely to be a short term blip but acts as an useful reality check".
He added: "Longer term measures all indicate continuing positive growth.
"Poor weather in January and February is likely to have been a significant contributor to the fall and output is likely to rebound in March - particularly in house building ahead of the Spring Sales season.
"One to watch out for is infrastructure, where output was lower than a year ago - possibly indicating that efforts to smooth workload during the transition between control periods in the water, gas and electricity industries may not have been as successful as intended."