Firm reports that interim figure fell by a third
Google steelwork contractor Severfield said it expects profit to bounce back in the second half after the firm's pre-tax profit slumped by a third in the first six months of the year.
The contractor, which has now completed its work on the City of London's tallest tower, 22 Bishopsgate, said pre-tax profit dropped to £8.2m in the six months to September from £13.1m during the same period last year.
Chief executive Alan Dunsmore said its results for its 2020 financial year, which finishes at the end of next March, were "expected" to be more second-half weighted and that its full year numbers were in line with expectations.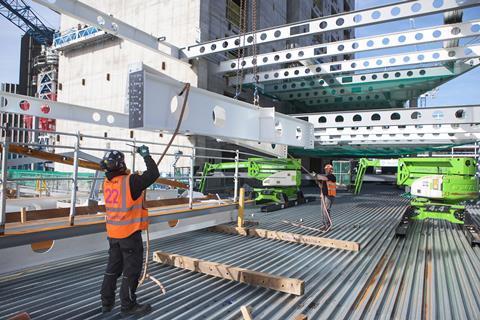 The firm said its pipeline of future orders remained stable with "a good balance of work across all key market sectors".
It said the firm's order book at the beginning of the month stood at £323m, up from the £295m it posted at the beginning of June. This included £20m worth of work from Harry Peers, the Bolton-based nuclear and power steel specialist it snapped up for £25m last month.
Severfield said its share of profit from its Indian joint venture more than trebled to £1.3m with Severfield adding that it was also looking at making inroads into the medium to high-rise residential construction market. It said it had "developed a steel solution in what has traditionally been a concrete-dominated sector".
Revenue at the firm dropped 12% during the period to just under £132m.