Contractor restructures UK business due to "stagnant" demand outlook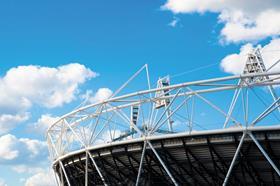 Steelwork contractor Severfield-Rowen has seen profit fall by over half in the first half of 2012.
Pre-tax profit at the firm fell to £1.5m in the six months to 30 June 2012, down 56% on £3.4m the previous year.
In June, the firm warned that operational overruns of £1.6m on two unnamed "complex" projects in the UK would hit profits in the first half of the year.
The Shard and Olympic Stadium steel contractor said it would restructure its UK business by the end of the year in response to a "stagnant" demand outlook in the UK.
Severfield-Rowen will merge three of its UK businesses – Severfield-Rowen Structures, Watson Steel Structures and Steelcraft Erection Services – to create a new company, Severfield-Watson Structures Ltd.
The firm said the merger would improve efficiency and margins and both of the group's existing UK plants in Dalton in North Yorkshire and Bolton in Lancashire will stay open.
Despite the completion of work on the Shard and several Olympic venues, Severfield-Rowen's order book grew marginally from £216m to £218m.
The group's overall revenue rose to £135.9m, up 11% from £122m the previous year.
The firm's Indian joint venture JSSL – launched in November 2011 – made a loss of £0.1m, down from a £1.6m loss the previous year.
The firm said JSSL is now trading profitability and will contribute profit for the full year.

Real-time Share Price
Severfield-Rowen and its joint venture partner JSW Steel will invest £7m to increase the capacity of its manufacturing facility in Vidyanagar by 50%.
Severfield-Rowen chief executive Tom Haughey said the firm's UK margins had been put under pressure from clients and a shrinking market.
He added: "The Group has continued to encounter challenges in the UK business with diminishing overall UK construction demand, the re-emergence of pricing pressure and the protraction of contractual settlements.
"Despite the backdrop, the UK order book remains stable at £218 million, which maintains full activity at all UK plants into 2013 and suggests further growth in market share."
The firm said: "The demand outlook for the UK, with the current exceptions of London commercial, industrial, warehousing and some energy sectors, continues to be stagnant at best.
"Political policy direction on UK energy would be a helpful stimulus to UK construction but the potential projects pipeline of £465 million in the UK remains sufficient for our needs in 2013."
Severfield-Rowen shares were down 8% in early trading.