Steelwork contractor currently coming to end of deal on Tottenham Hotspur's new stadium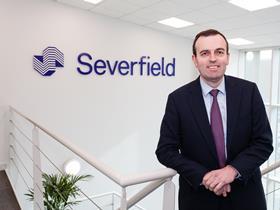 Severfield has been sounded out about the steelwork contract at the scheme to rebuild Chelsea's Stamford Bridge ground.
The firm, which is currently on site completing work on a £50m deal at the new home of Tottenham Hotspur, said it had been approached for its input into the scheme.
Chief executive Alan Dunsmore said the job was currently projected to use around 6,000 tonnes of steel – less than half the amount being used on the Spurs' 61,000 seat stadium.
Severfield has a strong track record in carrying out work for high-profile Premier League clubs recently, having completed the steelwork on the main stand expansion at Liverpool's Anfield ground nearly two years ago for main contractor Carillion.
Dunsmore (pictured) said: "We've been having discussions with Chelsea. If you look at Spurs, we were having conversations around that for five or six years before the tender came through." Most of the steel used on the Chelsea job will be in the roof structure, Dunsmore added.
Last week, Building revealed that the first major package on the £1bn redevelopment had gone to VolkerFitzpatrick which is set to carry out the enabling works contract which is centred on rail works and carries a pricetag of around £95m.
The next major package set to be let is the deal to tear down the club's existing ground. As well as demolition, the contract is expected to include excavation, basement and piling and substructure work.
It is believed to have been talking to Multiplex, Lendlease, Mace and Sir Robert McAlpine about the main contractor role with an appointment due next year.
The west London club wants to replace its existing 41,600 capacity ground with a 60,000 seat development that has been designed by Swiss architect Herzog & de Meuron, putting the capacity of the new ground on a par with Arsenal's Emirates stadium.
Severfield is due to wrap up its work on the 22 Bishopsgate tower, being built by Multiplex in the City of London, later this year before it switches focus to its £50m contract at the new Google headquarters in King's Cross which will be built by Lendlease. Dunsmore said the final amount of steel being used in the Google job was still being decided on but it is set to be between 15,000 and 20,000 tonnes. Piling work on the Google job is already underway and is being carried out by Expanded.