Steelwork contractor says it is being asked to look at more jobs in the capital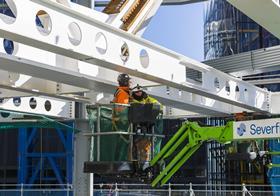 Steelwork contractor Severfield has said there are signs that more commercial jobs will be up for grabs in London with the firm reporting increased bidding activity in the capital.
London is the home for the firm's biggest jobs of recent years which have included the 22 Bishopsgate tower in the City as well as schemes for beaten Champions League finalists Tottenham Hotspur and a new roof for Number One Court at Wimbledon.
The firm has an ongoing contract to carry out steel work at the new Google headquarters at King's Cross in a deal worth around £50m.
Revenue in the year to March 2019 stayed flat at £275m with the firm blaming softer UK market conditions with some jobs stalled amid the ongoing Brexit impasse.
But the firm said: "Looking further ahead, we are now starting to see more bidding activity in the London commercial market, a trend which we expect to increase over the next few years."
Severfield said spare fabrication capacity meant margins were being squeezed on jobs it was bidding.
Despite this, it nudged underlying operating margins up to 8.5% from 8.3% with underlying pre-tax profit up 5% to £24.7m. It has said it wants to get this number up to £26m by next year as part of a strategic target.
The firm, which in April finally drew a line under over who was responsible for the cost of replacing 3,000 bolts on the Cheesegrater tower, said year-end net funds slipped £8m to £25m after dipping into its reserves to put £4m into the expansion of its factory in India.
Severfield launched its India business more than a decade ago and said that work to enlarge its complex at Bellary would be completed next year. It will take annual capacity up from 60,000 tonnes to 90,000 tonnes.
It is carrying out work in the country with partner JSW Steel, rumoured to be running the rule over parts of the stricken British Steel, and Severfield said it made an after tax profit of £1.2m, up from £500,000, on turnover up 75% to £84m. Its order book on 1 June was £134m.
Severfield chief executive Alan Dunsmore said it was looking at more work from Ireland and Europe especially data centres where it has won schemes in Dublin, Belgium and Finland.
It is also targeting more work on infrastructure job such as HS2 and the expansion of Heathrow Airport while it has won a number of mid-sized office schemes in Manchester and Nottingham.
Severfield's UK and Europe order book on 1 June was £295m. Pre-tax profit during the period was up 11% to £24.7m.