Chief executive Ian Lawson admits past mistakes but says 'tighter processes' have since been brought in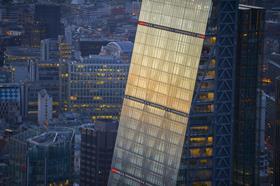 Severfield "totally underestimated" the job of erecting the steel structure of London's Cheesegrater tower, the firm's chief executive Ian Lawson has admitted.
Lawson said the complexity of the Cheesegrater contract, on which the firm was forced to write off £10m, was "totally underestimated by us, particularly in terms of logistics and erection on site".
But he said the firm had "tightened its processes" since then to "ensure there aren't any surprises" on contracts, including introducing monthly contract check-ups, and had also recruited a new legal director to "make sure we're not signing up to onerous or unacceptable terms and conditions".
His comments came after Severfield reported improved results for the year to 31 March 2014 yesterday, including a reduced pre-tax loss of £4.1m, and predicted recovery in the specialist steelwork sector by the end of the year.
Lawson joined the steelwork contractor in September after £20.1m of cost overruns on problem contracts were identified, including a £10m write-off on 122 Leadenhall tower in London, known as the Cheesegrater (pictured). These cost overruns resulted in a series of profit warnings, the exit of Lawson's predecessor Tom Haughey and a pre-tax loss of £28.9m in the 15 months to 31 March 2013.
Lawson said the firm was feeling "increasingly optimistic" about the steelwork sector and expected an upturn in "live contracts at the end of this year or start of next year", particularly in the offices, retail and sport stadiums sectors.
He said the firm's focus this year is "margin growth rather than revenue growth". Severfield's underlying operating margin hit 3.3% in the year to 31 March 2014, compared to -6% the previous year.
Revenue fell to £231.3m, down from £318.3m, partly reflecting a "reduction in capacity" in the business due to downsizing and also a shorter reporting period.
The firm was hit by further losses from its Indian steelwork joint venture, with its share of losses growing to £3m, up from £0.3m over the previous period.
The firm said it made an overall underlying pre-tax profit, which strips out exceptional costs, of £4m, compared to a £21.5m underlying loss the previous year.
The firm's UK order book stood at £168m on 31 March 2014, down marginally from 1 November 2013 at £172m, while the Indian order book grew slightly to £41m from £34m over the same period.
The firm, formerly known as Severfield Rowen, launched a rebrand dropping 'Rowen' from its name yesterday.