Firm says it can provide cheap electricity without accounting for flood defence benefits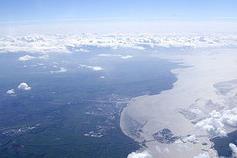 The firm planning to build a hydroelectric barrage across the Severn Estuary has told MPs it can meet its previously stated low price for energy without demanding subsidies set aside for flood defences.
Hafren Power, the firm planning to build the barrage, had previously said that the "strike price" - the price it would ask the government to guarantee for electricity - would be achievable, in part, because the barrage would alleviate flooding and therefore it hoped to somehow tap funding for flood defences.
But today the bosses of Hafren Power told MPs on the Energy and Climate Change Committee that their estimated strike price did not take into account additional savings from flood defences.
The change in stance may well increase the financial viability of the scheme because it is highly unlikely the government would have included consideration of flood damage minimisation when considering the strike price.
Gregory Shenkman, chair of Hafren Power, said: "We talking today about a gross strike price… We are confident we are coming in below the cost of offshore wind."
The current price of offshore wind is around £140/MWh and new nuclear plants are expected to need a strike price just below £100MWh. Shenkman said the flood defences were a selling point but would not need to be incorporated into the strike price.
But Shenkman empathised that the barrage would last a minimum of 120 years meaning the price of its electricity, after the initial capital funding was paid off over the first 30 years of operation, would be around £20/MWh for 90 years.
Shenkman's comments come after the chair of the committee, Conservative MP Tim Yeo, said the barrage plans still had "a long way to go" when they are presented to the committee earlier this month by MP Peter Hain, a proponent of the scheme.