BUJ Architects' Lincoln Plaza is voted ugliest building of the year – 'an unmitigated mess' says one judge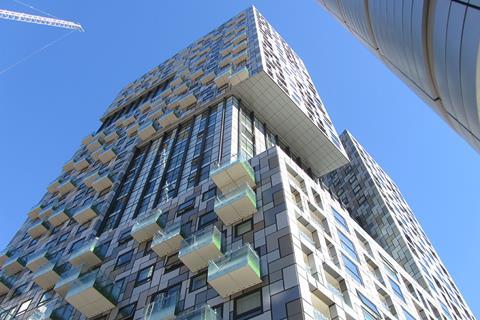 The winner of the 2016 Carbuncle Cup for the ugliest building of the year has been awarded to a residential tower scheme in London's Docklands called Lincoln Plaza.
Designed by London practice BUJ Architects, the 31-storey scheme in South Quay has been developed by Galliard Homes.
A shortlist of six finalists was drawn up, in the contest run by Building's sister publication BD, and eventually whittled down by the judges to a choice between this building and one other.
Lincoln Plaza triumphed with one judge, Building and BD architecture critic Ike Ijeh, saying it "beggared belief". He added: "Storeys are piled one on top of the other to create an assortment of haphazardly assembled facades that are crude, jarring and shambolic."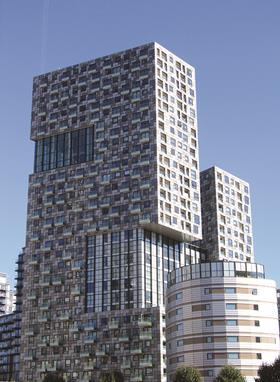 One BD reader said the series of balconies dotted on the outside of the structure "are an open invitation to commit suicide".
The judging panel was chaired by BD's editor Thomas Lane and also included architect Ben Flatman and LSE director of estates, Julian Robinson.
Robinson added: "When you look at the crazy patterns, pick and mix colours and gimmicky balconies you can see that it lacks poise, foundation and clarity of vision. Its neighbours aren't great but this is just an unmitigated mess."
And Flatman said: "Lincoln Plaza is the type of project that gives high-rise housing a bad name. The massing and migraine-inducing cladding achieves the seemingly impossible by actually managing to lower the design bar in the midst of so much already poor architecture."
Galliard's promotional material says Lincoln Plaza is "set to provide one of the most prestigious and sophisticated new landmarks on Canary Wharf's iconic skyline". The development is almost sold out although one flat is on the market for £895,000.
Lane said this year's six finalists were united by "contextual incongruity, myopic cladding, woeful detailing, mind-numbing mediocrity, clumsy massing and of course poor planning."
Carbuncle Cup 2016 shortlist
Saffron Square, Croydon, Rolfe Judd
The Diamond, University of Sheffield, Twelve Architects
One Smithfield, Stoke on Trent, RHWL Architects
Poole Methodist Church extension, Poole, Intelligent Design Centre
5 Broadgate, City of London, Make Architects
Lincoln Plaza, east London, BUJ Architects