Sellar was the man behind The Shard at London Bridge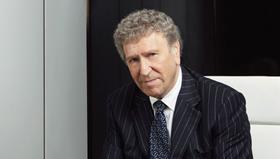 Shard developer Irvine Sellar has died after a short illness. He was 82.
His son James, who has worked alongside his father for the past 20 years, will take over running of the Sellar Group, a statement from the company said.
Sellar passed away on Sunday and leaves a wife, three children and five grandchildren.
He began his career in the 1960s as a fashion retailer on London's Carnaby Street, before selling the business which he built up into the UK's second largest fashion chain that catered for men and women in the early 1980s and then moving into property.
In 1998, he and two partners acquired the London Bridge headquarters of accountant PwC which eventually became the home of Renzo Piano's Shard.
The scheme, which was developed in partnership with the state of Qatar, was given the go-ahead in November 2003 following an intensive public enquiry and Mace began construction in 2008.
Piano has also been hired by the group to design the Paddington Cube in west London which will be built on the site of a former Post Office sorting office.
The £775 million scheme, known as Paddington Quarter, was OK'd in December paving the way for a 14-storey, 33,500 sq m office block that will sit 12m above new public realm.
The scheme, which is being developed by Sellar Property and Great Western Developments, replaced Piano's earlier plans for a 72-storey pole filled with luxury apartments, which was later withdrawn by the developer last year.
But the new plans have attracted controversy with a number of heritage groups objecting, including Historic England.
Last week, communities secretary Savid Javid issued a notice preventing Westminster city council from issuing formal planning consent for the scheme.
Mace's Stephen Pycroft pays tribute
"I was deeply saddened to hear of the sudden death of Irvine Sellar. He was one of life's characters and The Shard epitomised the impact he made in London both as a developer and as a person. I came to know him well during the period when Mace were appointed to deliver the Shard and we developed a close working relationship.
"He was one of a kind. Above his desk, he had a framed quote from George Bernard Shaw: "The reasonable man adapts himself to the world: the unreasonable one persists in trying to adapt the world to himself. Therefore all progress depends on the unreasonable man." I had the utmost respect for Irvine and he will be sadly missed."