Buyout of retirement housebuilder by private equity firm approved despite significant vote against
US private equity firm Lone Star managed to secure approval of its £647m takeover of retirement housebuilder McCarthy & Stone in a shareholder vote late yesterday.
The firm won the backing of shareholders controlling 85.7% of the shares at a court meeting to approve the deal, just over the 75% threshold needed to take the firm private.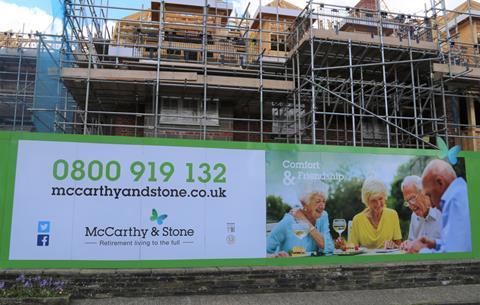 The firm said 75.4% of individual shareholders voted at the meeting in favour of the deal, which was significantly sweetened yesterday with a £17m last-minute increase in the offer price.
Some shareholders had been reluctant to accept the offer from Lone Star because while the final offer price of 120p per share was significantly in excess of the firm's stock market value since the onset of the coronavirus pandemic in March, McCarthy & Stone had traded consistently at around 150p per share prior to the covid crisis.
The deal also needed McCarthy & Stone shareholders to approve it at a company general meeting, which they did with a majority of 79.4% to 20.6%.
Cenkos analyst Kevin Cammack said shareholders had responded to an "ultimatum".
He added: "I think the decision being faced is less about whether one thinks 120p is a 'fair' price to put on the group but more about whether the retirement homes industry with its unique trading characteristics, is a suitable one to be in the publicly quoted arena?"
The firm said the takeover by Lone Star is now expected to go through via a scheme sanction hearing at a court early next year. This will see the business delisted from the stock exchange.
Announcing the proposed takeover in October, Donald Quintin, president of Lone Star Europe, described McCarthy & Stone as a leading developer and manager of retirement communities and said the deal "represents an attractive opportunity in a market underpinned by clear fundamentals: a rapidly ageing population and a structural undersupply of suitable housing options for older people".
The date by which the takeover must now go through is 28 February next year.
McCarthy & Stone has been hit harder by the pandemic than its mainstream housebuilder rivals, with the firm saying its older customer base had been far more cautious about re-entering the housing market since the initial spring lockdown had lifted. The firm said revenue for the calendar year will be down 79% at just £197m.