Three floors are to be added to Arnold House in Shoreditch in extensive refurbishment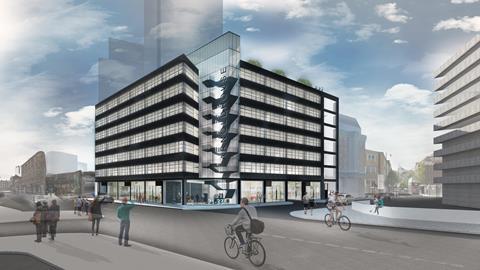 Planning permission has been won for the extension and refurbishment of Arnold House in Shoreditch.
The former 1960s warehouse will be raised to add three floors and a new reception added with cafes, restaurants and shops on the ground floor and basement to cater for the areas burgeoning tech and media businesses.
Work is expected to begin in early 2016 with completion due in the middle of 2017.
The project team includes BuckleyGrayYeoman as the architect, Future 54 as the quantity surveyor, Simpson Associates is the structural engineer and GDM Partnership the services engineer.
Adrian Trent, managing director of Future 54, said: "As the appointed Quantity Surveyor, Future54 are pleased to be part of the team that's regenerating and repositioning one of London's key mid-century commercial office buildings. By increasing the floor area with a vertical extension in addition to a full internal and external refurbishment, when complete, this building will add circa 15,000 sq ft of new retail accommodation and circa 88,000 sq ft of new, modern and versatile office space."
Paul White, director of BuckleyGrayYeoman said: "Arnold House will provide workspace designed for the needs of the tech and creative companies of Shoreditch – well serviced, newly refurbished and stylish, with the benefit of the flexibility, high ceilings and well-lit spaces you get with industrial buildings.
"We know that former warehouses are the kind of space that companies of all sizes are looking for and we've developed a lot of expertise about what makes them uniquely attractive so that our three-storey extension will provide more of the same: a new building with the qualities of the existing."