First half trading hit by bad weather and 'macro uncertainty'
SIG has blamed what it called a "challenging" UK market for a near-22% slump in profit in the first six months of 2018.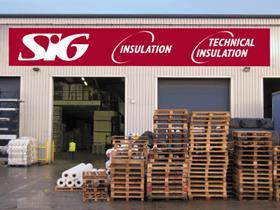 SIG said that while it had seen growth in new housing starts the commercial new build market had slowed significantly in the past 12 months, and demand in the residential repair, maintenance and improvement market "remains weak, reflecting subdued levels of secondary housing market transactions".
The building materials group said the domestic market had "not provided a helpful backdrop so far this year".
Group turnover for the six months to the end of June 2018 rose 1% to £1.36bn but underlying pre-tax profit fell 21.8% to £26.9m.
The firm also said prior year figures had been restated following a series of profit overstatements and the replacement of its previous auditor, Deloitte, with Ernst & Young.
Meinie Oldersma, SIG's chief executive, said the bad weather at the start of the year and "continuing macro uncertainty" had not helped operations in the UK and Ireland, although the trading environment in mainland Europe had been positive.
Revenue in the UK fell 2.1% to £624.6m, while operating profit fell 40% to £14.2m. Across the Channel, turnover rose nearly 4% to £736m, with operating profit up nearly 11% at £27m.
Net debt fell 19% to £176m as part of the firm's work to address it balance sheet.
Oldersma said the issues in the UK market meant his firm had sped up a number of planned changes to its activities. "Whilst there remains considerable work to be done we remain confident in our ability to deliver our transformational plan," he added.
Despite the firm's confidence in meeting its expectations for the full year Cenkos analyst Kevin Cammack said it was a "big ask".
Cammack said SIG would need to post a second half pre-tax profit of £51.6m "or almost twice what was reported in the first half and better than has been achieved in any six-month period since 2014.
"In short the market will have its doubts about a downgrade deferred but, if it makes numbers, surely we should take the pace and integrity of SIGs transformational recovery more seriously."